Do you enjoy Musical Games? Has it been long since you played your favourite Bollywood Musical Game? Whether it be a simple round of Antakshari, Musical Chair, or a Musical Guessing Game? Gaana Pehchaana has the most entertaining Bollywood Musical Games. Today, we'll introduce you all to the first game called TMK(Teen Maar Khan). There are lots of TMK games on Gaana Pehchaana with different themes. We'll play TMK 400 titled "Sadabahaar Nimmi Ji" which is an ode to the yesteryear actress whom we lost last year. There are 5 levels and you'll get just 3 lives to guess the songs and collect your points.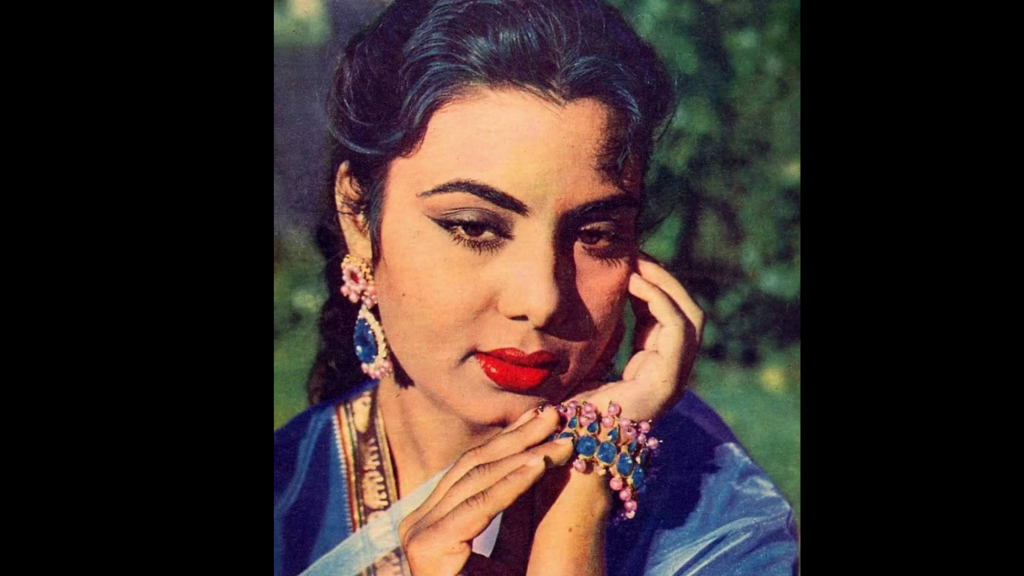 Source: https://cutt.ly/szSMwVf
How Nimmi Came To Prominence
Nimmi, who came to prominence in 1949 with her first Bollywood film "Barsaat", was one of the most sought after actresses of the 1950's and 60's. Nimmi's birth name was Nawab Bano. While acting in 'Barsaat' she was renamed as Nimmi. The demure girl to whom acting came naturally, first caught Raj Kapoor's attention on the sets of "Andaz", who then cast her as the second lead in " Barsaat". She performed her role so well that it started off her glorious career.  Her journey from Agra to Bombay, her golden career and her marriage to famous scriptwriter Ali Raza are stories of great interest. Her last significant film "Love and God" was released in 1986. We lost Nimmi Ji in 2020.
Let's enjoy reading about her and her famous songs.
Jiya Beqarar Hai (1949)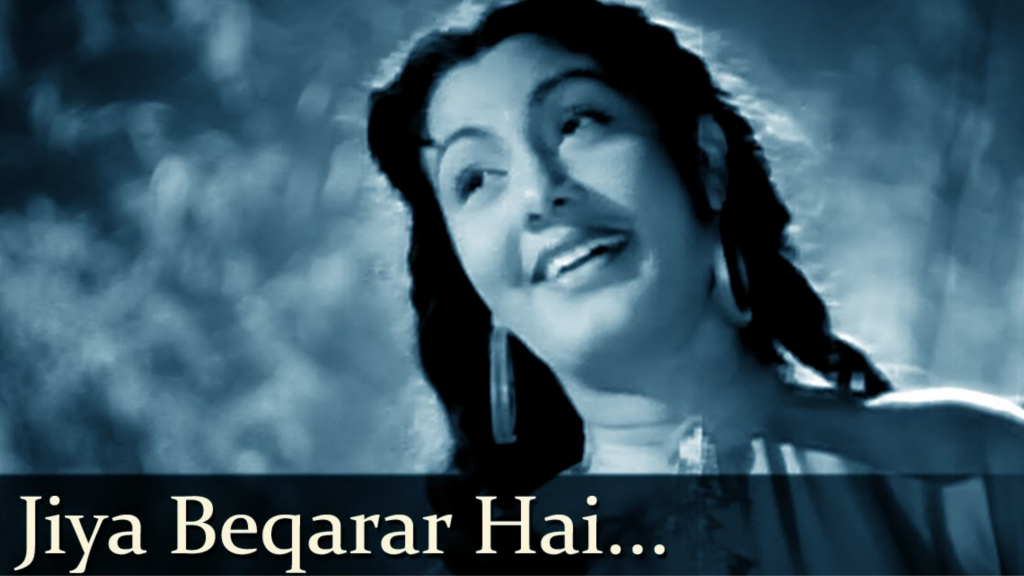 Source: https://cutt.ly/TzDR8S8
Music: Shankar Jaikishan
Lyrics: Hasrat Jaipuri
Singer: Lata Mangeshkar
Movie: Barsaat
In this track, Nimmi can be seen as a naive mountain belle running across the mountains and pouring her heart out through her singing. Shankar and Jaikishan ji's music perfectly suits the mood of a restless lover waiting for her sweetheart. Hasrat Jaipuri ji's lyrics made this song a number 1 hit. No words can complete the appreciation for Lata Mangeshkar's singing. Hear it for a lovely black and white experience from 1949.
Kahe Ko Der Lagai Re (1952)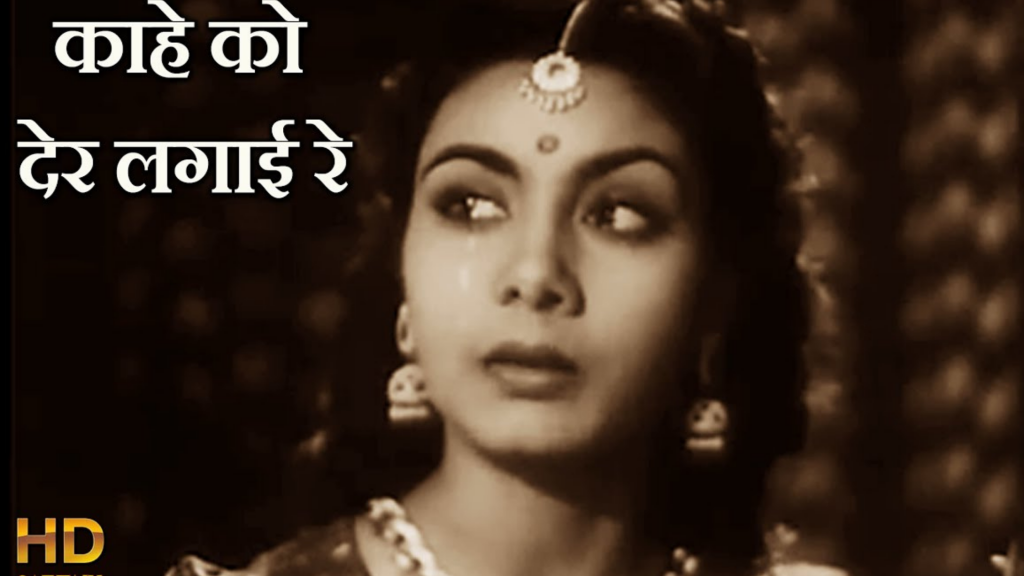 Source: https://cutt.ly/TzDR8S8
Music: Shankar Jaikishan
Lyrics: Hasrat Jaipuri
Singer: Lata Mangeshkar
Movie: Daag
Nimmi was well known for her heartbroken songs. In most of her films, there were some of the other sad songs. This is one of those depressing songs where you'll find her pining for her lover who is on the verge of destroying himself. Though the ending of "Daag" was a happy one, the protagonists go through lots of ups and downs. The master composers Shankar and Jaikishan composed the lowest sounding music. Nimmi's feelings couldn't be expressed this well without the beautiful words by Hasrat Jaipuri and like always Lata Mangeshkar does the best with her singing for Nimmi.
Ek Baat Kahoon (1954)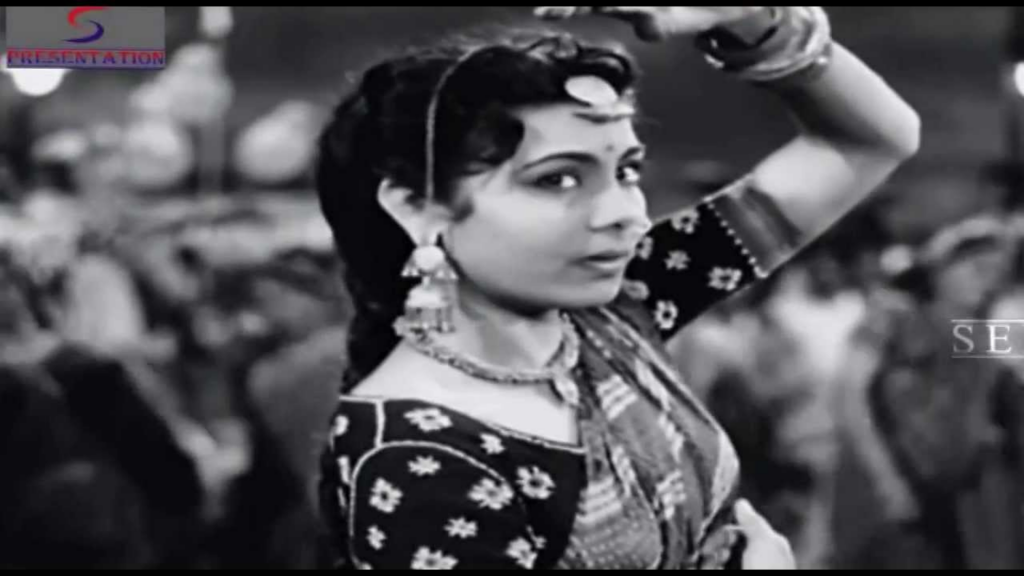 Source: https://cutt.ly/zzDIems
Music: Naushad Ali
Lyrics: Shakeel Badayuni
Singers: Asha Bhosle
Movie: Amar
Another popular Nimmi track in which we see her as a poor Milkmaid is "Ek Baat Kahoon". Nimmi's role in this song has different demands and she fulfils all of them. Her appearance, make-up, acting and dancing are very natural. The music by Naushad is typical of the 1950s. Badayuni's poetic skills in this song and hundreds of other Bollywood songs crowned him as the king of Hindi and Urdu lyrics. This time even Lata Mangeshkar's sister Asha Bhosle did a great job singing for Nimmi.
Mera Salam Le Ja (1955)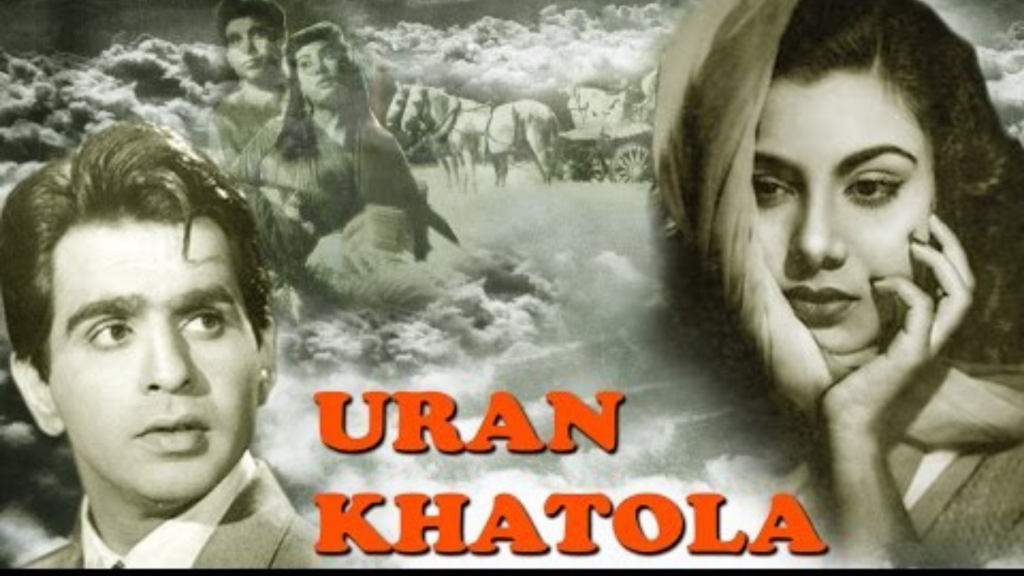 Source: https://cutt.ly/IzDIp12
Music: Naushad Ali
Lyrics: Shakeel Badayuni
Singer: Lata Mangeshkar
Movie: Uran Khatola
The iconic music composer Naushad Ali who popularised the use of classical music in films composed this number. The track video shows a magical land inhabited by fearless women who are riding on horses and singing a song to salute an aeroplane or helicopter flying over them. Shakeel Badayuni's lyrics are an appropriate description of this situation. Lata Mangeshkar's lovely voice stands for the powerful women coming from different backgrounds who are singing in a symphony.
Mera Naam Abdul Rehman (1956)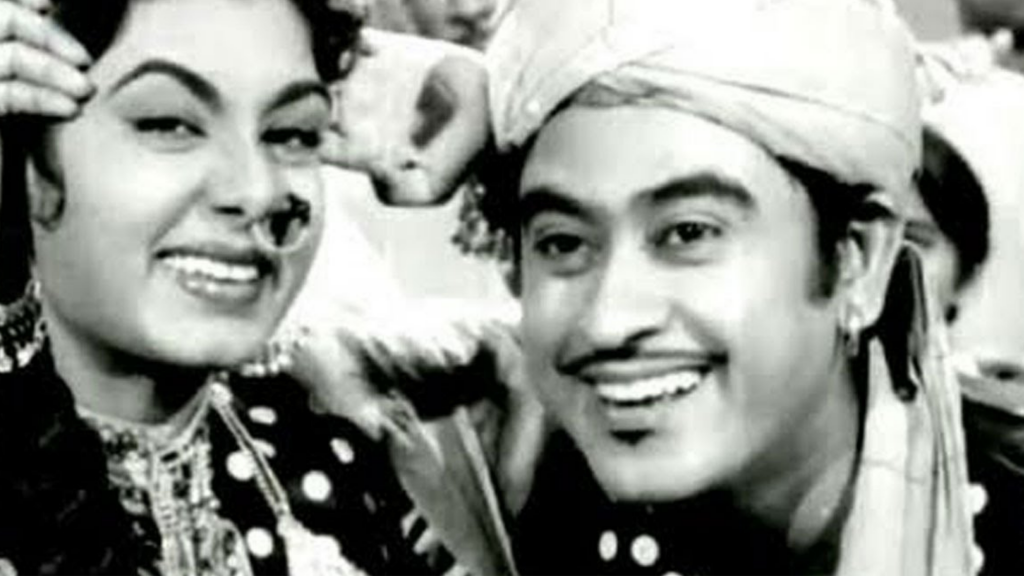 Source: https://cutt.ly/czDI3GG
Music: Madan Mohan
Lyrics: Rajinder Krishan
Singer: Kishore Kumar
Movie: Bhai Bhai
This one is an enjoyable track about Abdul Rehman, a dry fruits seller from Kabul. It was one of Nimmi ji's best performances and begins with a scene showing a huge boot. Nimmi can be seen at the top of the boot, whereas Kishore Kumar can be seen at the bottom of it. Watching Kishore Kumar and Nimmi dance as they sell their exotic dry fruits is an engrossing experience. Madan Mohan's music will steal your heart away. The lyrics by Rajinder Kishan are what make people stay glued to this song. Kishore Kumar did not just turn out to be a great actor for this song but a great singer as well.
Nain Mile Chain Kahan (1956)
Source: https://cutt.ly/HzDOtl9
Music: Shankar Jaikishan
Lyrics: Shailendra
Singers: Lata Mangeshkar, Manna De
Movie: Basant Bahar
A marvellous creation by Shankar and Jaikishan "Nain Mile Chain Kahan" from Basant Bahar was a super-duper hit that made Nimmi the Queen of Bollywood. It shows love in the springtime and how Nimmi helps the hero regain his voice to impress the king. Shailendra is a genius with flowery lyrics and Lata Mangeshkar, Manna Dey slay with their singing. This is a must watch romantic number from the black and white era.
Meow Meow Meri Sakhi (1964)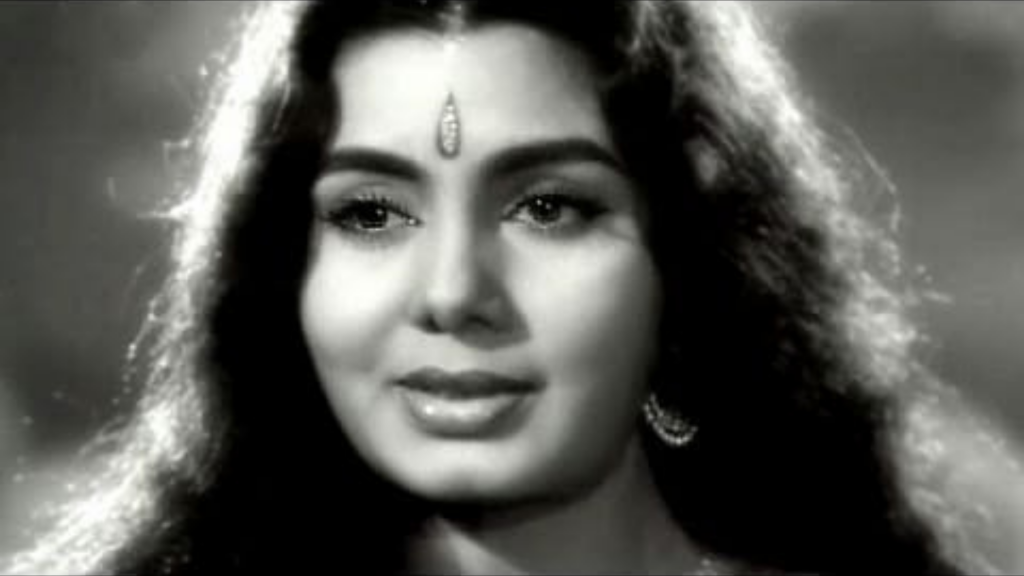 Source: https://cutt.ly/wzDO62I
Music: Madan Mohan
Lyrics: Rajendra Krishan
Singer: Lata Mangeshkar
Movie: Pooja Ke Phool
This song was a big challenge for actress Nimmi who had to play the role of a blind lady running after a cat and caressing it. She had the zeal to perform this role perfectly and did a great job at it. Madan Mohan Kohli's music has just the right beats and Rajendra Krishan's lyrics vividly bring out the innocence of the character. One thing that we notice is that most of the melodies for actress Nimmi were sung by our nightingale Lata Ji and they seem to fit in so well. At times you might even think that it is Nimmi singing the song on her own.
Reliving Nimmi Songs With Our Favourite Game- "Teen Maar Khan"
Nimmi lived from 18th February 1933 to 25th February 2020. Her simplicity, innocence, love for acting, attempt at being a better actor every day and natural beauty made her what she was. That kind of natural talent and purity can not be found anymore. We miss her and her songs. Play TMK 400 and ask your friends, family, acquaintances to play it too.
Play Live, Play Against Others
Another fun thing launched by Gaana Pehchaana is GaanaP Live!  It's a LIVE Game Show in which you can play together with fellow Bollywood Music Fans from around the world. You can get invited to the next GaanaP Live by registering here. Check out these videos on YouTube to learn more about GaanaP Live!
Install the app on Android or iOS to experience the best of Bollywood music, gaming, quizzes, blogs and a lot more.