Eyes are the epitome of beauty in Indian cinema. Just like the hero praises the heroine's gorgeous hair, her eyes captivate his heart and make him sing verses dedicated to them. Hindi Films have the maximum number of songs in admiration of the heroine's dazzling doe eyes which are time and again compared to the dark velvet of the night or the spreading black darkness of the storm clouds just like tresses, but tresses aren't capable of expressing like the eyes which speak up a lot more than the mouth.
In this week's Gaana Pehchaana blog, we'll find out how heroes from the different decades wooed their leading ladies in their own style by singing about their magnificent eyes.
At times, they drowned in them, at times, they were lost in them and at other times, they communicated things that couldn't be expressed in mere words.
1950s- Eye Games In "Aankhon Mein Kya Ji" (1957)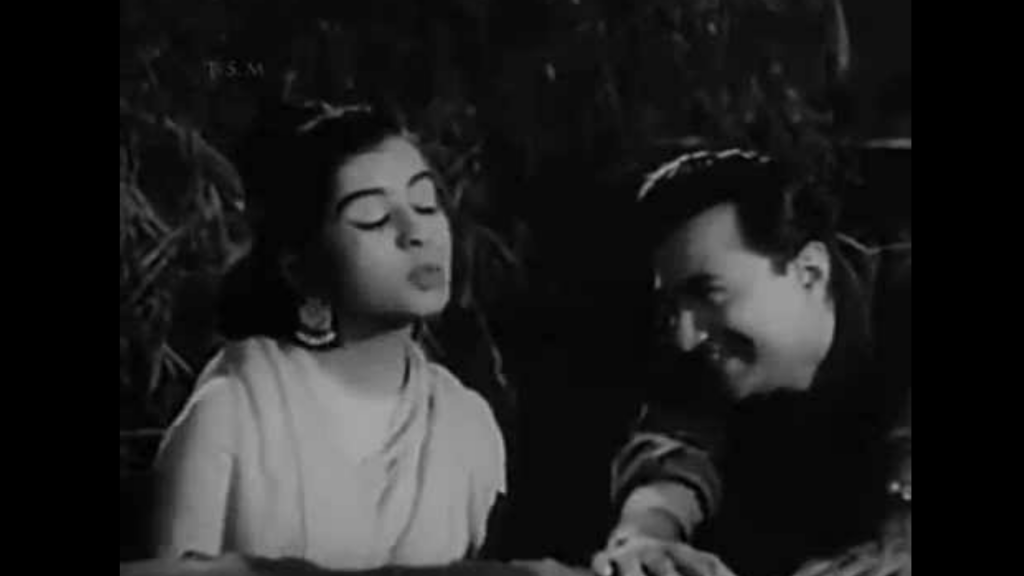 Source: https://bit.ly/3hx3qbp
Music: S.D Burman
Lyrics: Majrooh Sultanpuri
Singers: Asha Bhosle, Kishore Kumar
Movie: Nau Do Gyaarah
This song was from Navketan banner's debut film. It was also Kalpana Kartik's last film and you'll enjoy the sweet and sour ched-chad between Kalpana Kartik and Dev Anand as she asks him Aankhon mein kya Ji? and he answers Rupehla Badal.
In this song Kalpana's identity of a woman from a Sardar man is revealed and they get down from the truck into a hay covered rustic area where this amazing melody composed by senior Burman, written by Majrooh Sultanpuri and sung by geniuses like Asha Bhosle, Kishore Kumar was shot.
1960s- Stealing Glances Amidst A Wheat Field In "Likha Hai Teri Aankhon Mein"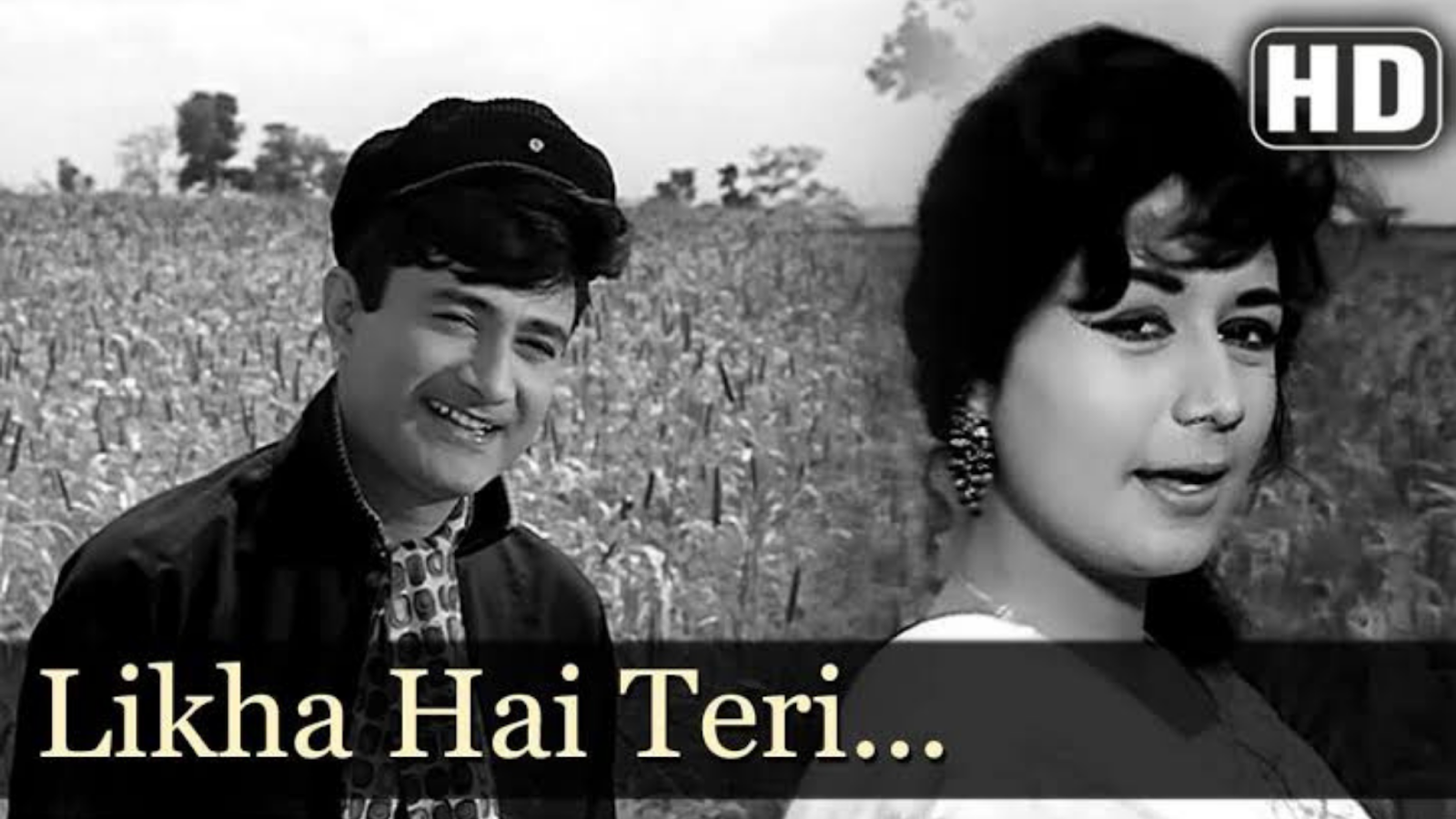 Source: https://bit.ly/3xd2n6R
Music: S.D Burman
Lyrics: Majrooh Sultanpuri
Singer: Lata Mangeshkar, Kishore Kumar
Movie: Teen Devian
It was the era of S.D Burman and he composed the best melodies that anybody could ever imagine. Nobody could write songs revolving around the eyes better than Majrooh Sultanpuri. Lata Mangeshkar-  Kishore Kumar were the Alka Yagnik- Udit Narayan of the 60s and who could have better expressed Dev Anand and Nanda's eye to eye conversations through their perfect voices?
The entire soundtrack of Teen Deviyan was a superhit when released and continues to be a hit even today. Nanda's stylish suits became a trendsetter in those days.
1970s- Intoxicated By Pink Eyes In "Gulabi Aankhen Jo Teri Dekhi" (1970)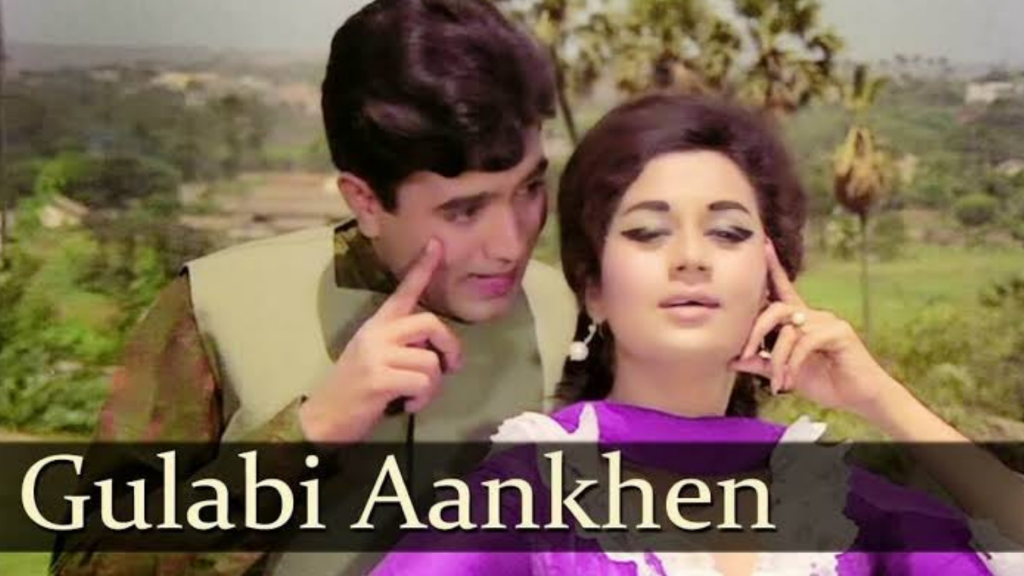 Source: https://bit.ly/3hx3vfd
Music: R.D Burman
Lyrics: Anand Bakshi
Singer: Mohammad Rafi
Movie: The Train 
The iconic Aankhen song starring Rajesh Khanna and Nanda has always left us intoxicated. Anand Bakshi and R.D Burman were at the peak of their career and Rafi was already the master of his art when this song came out.
Rajesh Khanna and Nanda seemed to be enjoying the entire dance sequence jumping around the park, climbing across trees and having fun under the sun as Khanna wooed his heroine by singing about her eyes which made his heart go numb.
1980s- The Story Within A Child's Beautiful Eyes In "Do Naina Aur Ek Kahani" (1983)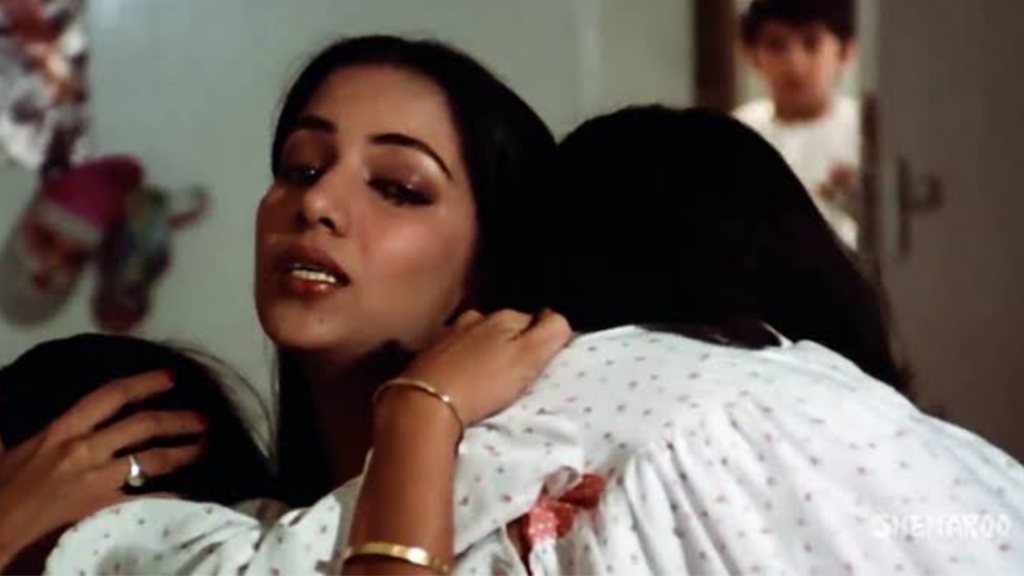 Source: https://bit.ly/2UhQxtV
Music: R.D Burman
Lyrics: Gulzar
Singer : Aarti Mukherji
Movie: Masoom
This beautiful tune by junior Burman is a gem in the Masoom soundtrack wherein each song was sung by a different singer. This one was beautifully sung by Aarti Mukherjee, the singing sensation of Bengal.
The song is framed like a lullaby hummed by a mother for her kids while she peeps into the eyes of her daughters, whereas her foster son looks at them from a distance, as he misses his own mother. The lyrics by Gulzar are extremely emotional.
1990s- Pardon The Eyes For It's Audacity In "Aankhon Ki Gustakhiyan" (1999)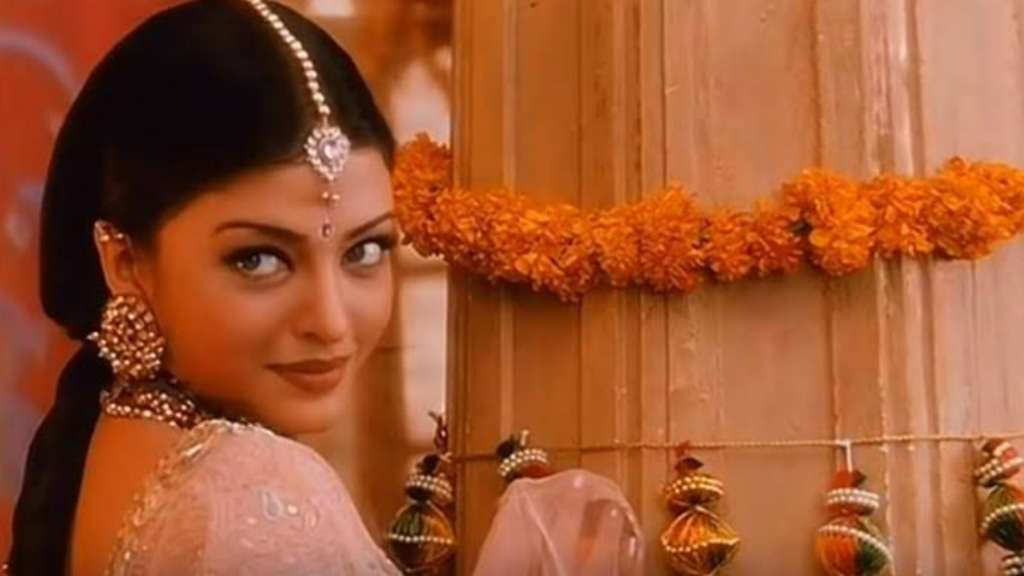 Source: https://bit.ly/3hw2m7s
Music: Ismail Darbar
Lyrics: Mehboob
Singer: Kavita Krishnamurthy, Kumar Sanu
Movie: Hum Dil De Chuke Sanam
"Aankhon Ki Gustakhiyan" is undoubtedly one of the most popular Aankhen songs ever. Being a part of the Hum Dil De Chuke Sanam soundtrack it was nominated for filmfares and continues to rule over people's hearts and minds.
Ismail Darbar literally won the National Award only once for his amazing Hum Dil De Chuke Sanam compositions, including this song.
Mehboob was showered with praises for his mind blowing lyrics and obviously Kavita Ji and Sanu Ji gave a voice to Aishwarya and Salman's endless eye conversations at the wedding event.
2000s- Seeing Your Beloved With Eyes Open Or Close In "Aankhen Khuli Ho Ya Ho Band" (2000)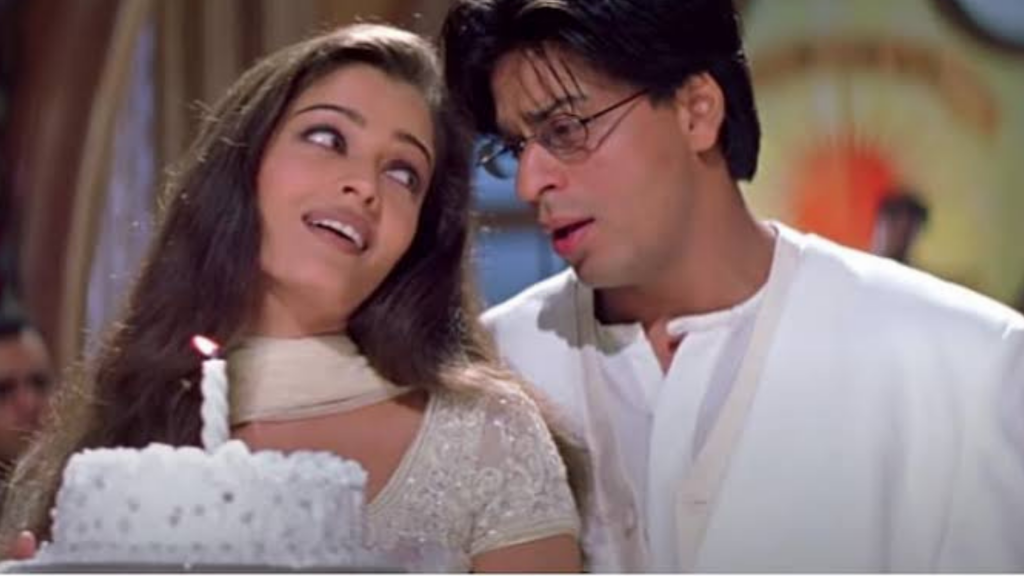 Source: https://bit.ly/368ld3k
Music: Jatin, Lalit
Lyrics: Anand Bakshi
Singers: Lata Mangeshkar, Udit Narayan, Sonali, Manohar, Priya, Udbhav, Ishaan, Shweta
Movie: Mohabbatein
Travel back to the beginning of the new century and you'd hear everyone humming turu ru ru ru ru ru ru ru ru ru. Aankhen or eyes play a pivotal role in romance, which is made clear in the hook line of this song. This track composed by Jatin-Lalit and penned down by Anand Bakshi Ji was the most trendy song in the initial years of the 21st century.
Shahrukh Khan rocked the grand college party along with three of the other heroes and heroines who had newly fallen in love while singing this song.
The group of new singers perform a great job along with Lata Mangeshkar and Udit Narayan.
2010s- Big And Small Dreams Seen By the Mind's Eye That Get Torn Apart In "Naina" (2016)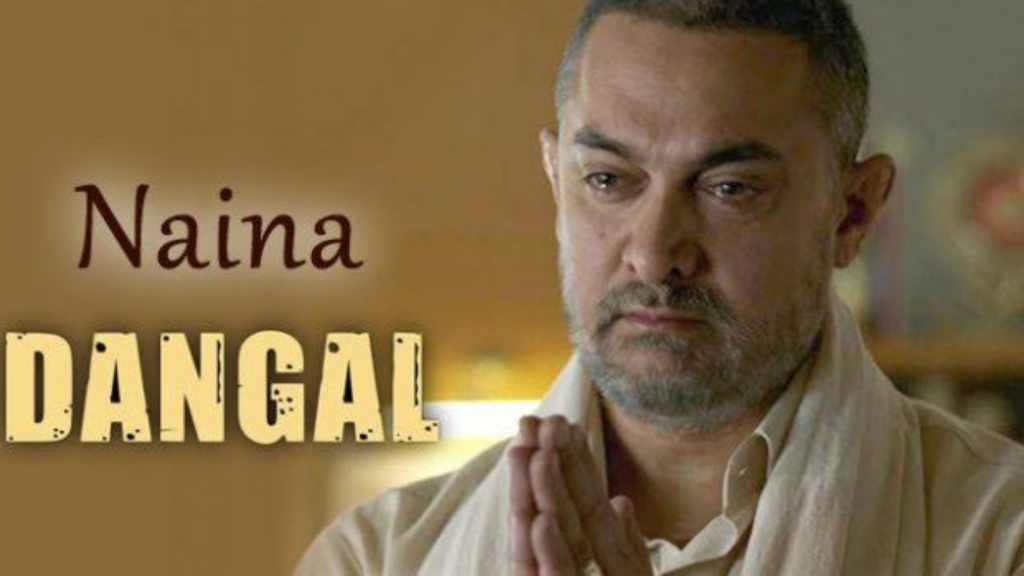 Source: https://bit.ly/3hbOXmn
Music: Pritam Chakraborty
Lyrics: Amitabh Bhattacharya
Singer: Arijit Singh (Male Version), Neha Kakkar (Female Version)
Movie: Dangal
Dangal won over the hearts of innumerable film lovers because of its different plot and appealing storyline based on real events portraying young girls getting trained to be the best wrestlers in the country.
This song in particular focuses on all the hopes and dreams visualised by the mind's eye which at times get shattered and cannot be realised. It is one of Pritam's finest compositions and he deserves appreciation as he created something so original and beautiful.
Amitabh Bhattacharya, Arijit Singh and Neha Kakkar did their best to put life into Mahavir Singh Phogat and both his daughter's scattered feelings.
We have just mentioned one song from each decade, but Bollywood has thousands of other Aankhein, Nain and Naina songs from different decades and generations.
You might have some other songs on your mind, mention them in the comments section below!
Select Your Decade & Play Games On The Gaana Pehchaana App!
On Gaana Pehchaana, you can select the decade and difficulty level of your choice while playing Teen Maar Khan, Aur Sunao and Bhagam Bhag, so that you come across some of your favourite aankh/ nain songs from the decade of your choice which you'd be able to recognise faster.
Keep a check on our blogs section for something new and interesting every Friday and you can get invited to the next GaanaP Live event by registering here. Check out these videos on YouTube to learn more about GaanaP Live!
Install the app on Android or iOS to experience the best of Bollywood music, gaming, quizzes, blogs and a lot more.