Winter is at its peak. Many of us are fond of the chilling cold and some of us get extremely lazy during this time of the year. Whether you love the winter weather or not, it brings along a lot of excitement, a chance to enjoy your favourite book or movie underneath the warm quilts while sipping on to hot coffee or soup. It is a time to be merry and jolly and celebrate the warmth in your heart.
Bollywood has a large collection of songs which are picturized in the snow and describe the chilly weather in the best possible way. Let's have a look at a few such songs below.
Enjoy the songs on your favourite Music App GaanaPehchaana.
Chahe Koi Mujhe Junglee Kahe (1961)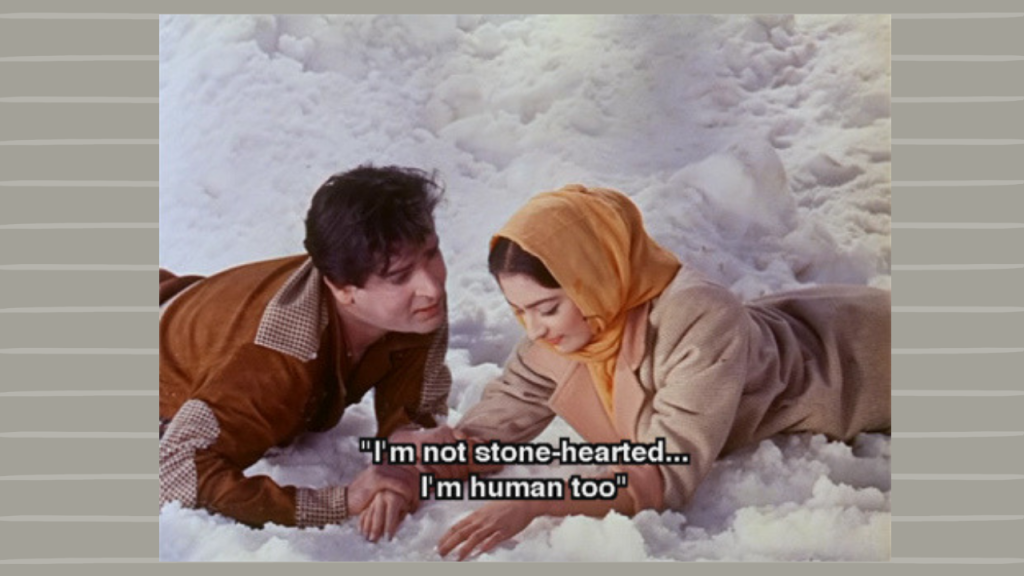 Music: Shankar-Jaikishan
Lyrics: Hasrat Jaipuri
Singer: Mohammad Rafi
Movie: Junglee
An evergreen gem of a song sung by Mohammad Rafi, "Chahe Koi Mujhe Junglee Kahe" is from the famous 1991 film "Junglee". Shammi Kapoor appears to be highly energetic as he is seen skiing and jumping over the hills and mountains while wooing his lady love played by Saira Banu. Shankar Jaikishan composed all songs for this film but this one is the most dynamic and energetic song of all.
Shokh Nazar Ki Bijliyaan (1964)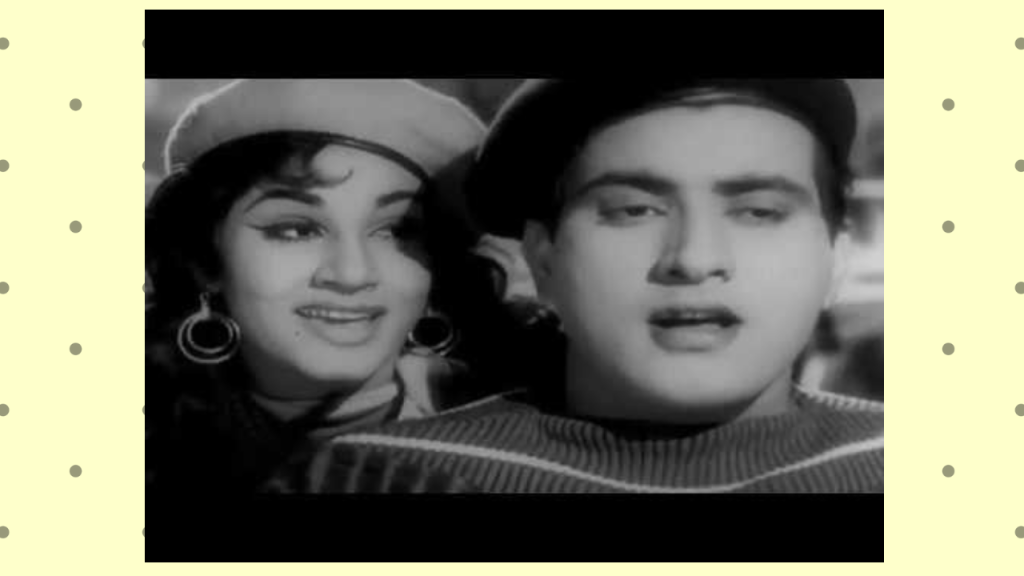 Music: Madan Mohan
Lyrics: Raja Mehdi Ali Khan
Singer: Asha Bhosle
Movie: Wo Kaun Thi
Such songs and movies are rarely picturised today. In spite of the advancement in technology, picturesque songs like "Shokh Nazar Ki Bijliyaan" are rarely heard or seen these days. Raja Mehdi Ali Khan might not have written too many lyrics, but the songs written by him are special and loved till today. Sadhana and Manoj Kumar are too good with the acting. They are seen ice-skating with other crew members in perfect coordination.
Hum Aur Tum (1973)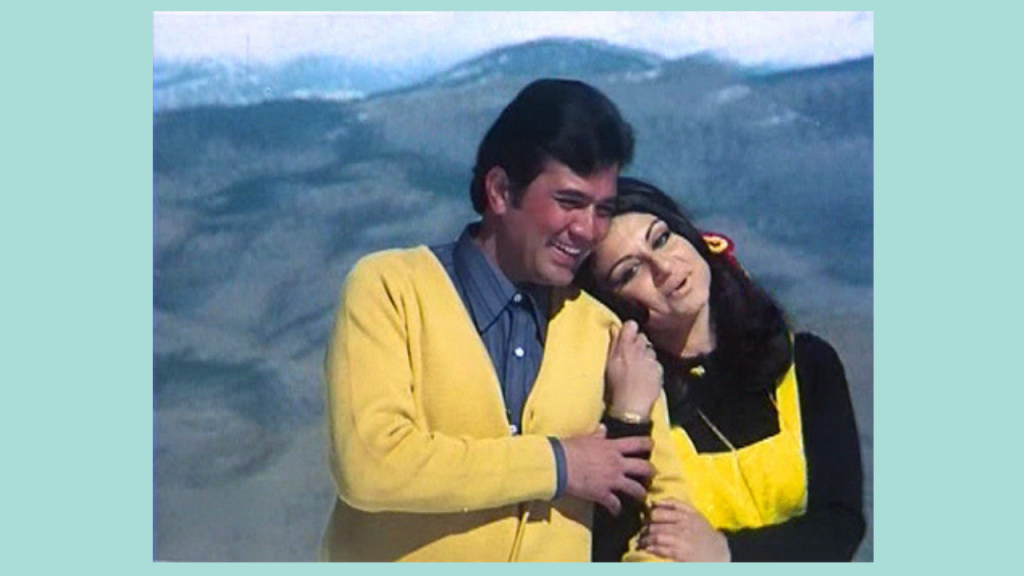 Music: Laxmikant, Pyarelal
Lyrics: Sahir, Ludhianvi
Singers: Lata Mangeshkar- Kishore Kumar
A beautiful winter song picturised in the snow "Hum Aur Tum" is from the 1973 movie "Daag" based on Thomas Hardy's novel, "The Mayor Of Casterbridge". It stars Sharmila Tagore and Rajesh Khanna. A typical Kishore Kumar-Lata Mangeshkar melody with the words of the song beautifully expressed through the lyrics by Sahir Ludhianvi. Rajesh Khanna and Sharmila Tagore made a great onscreen pair.
Karvaten Badalte Rahe Saari Raat Hum (1974)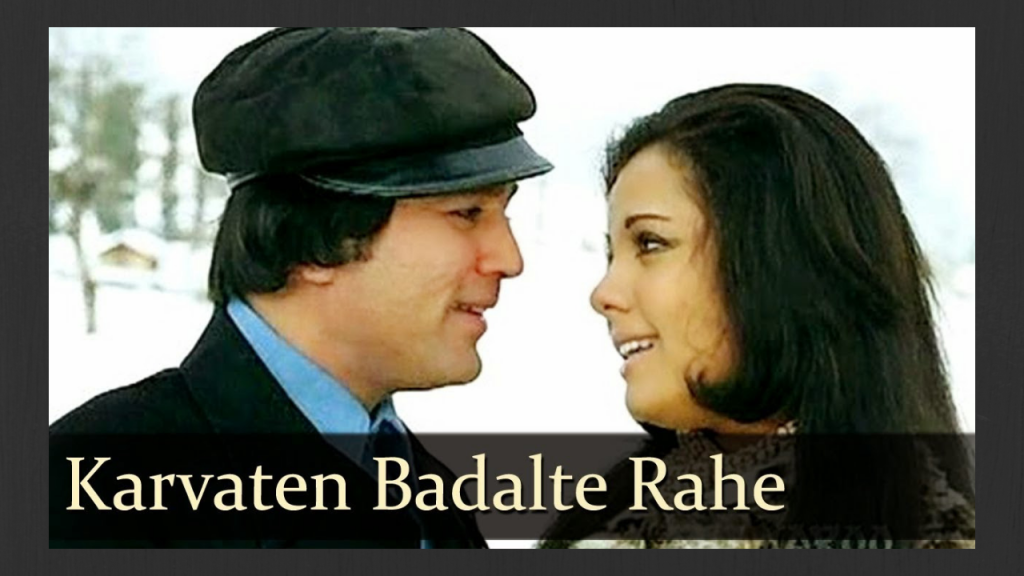 Music: R.D Burman
Lyrics: Anand Bakshi
Singers: Kishore Kumar, Lata Mangeshkar
Movie: Aapki Kasam
The greatest singers, musician and lyricist came together to create this magnificent song picturised in snowy Switzerland.  Rajesh Khanna and Mumtaz's acting is simply class apart. Similarly, Lata Ji and Kishore Da add a divine touch to this regular romantic number.
Kitni Khoobsoorat Yeh (1982)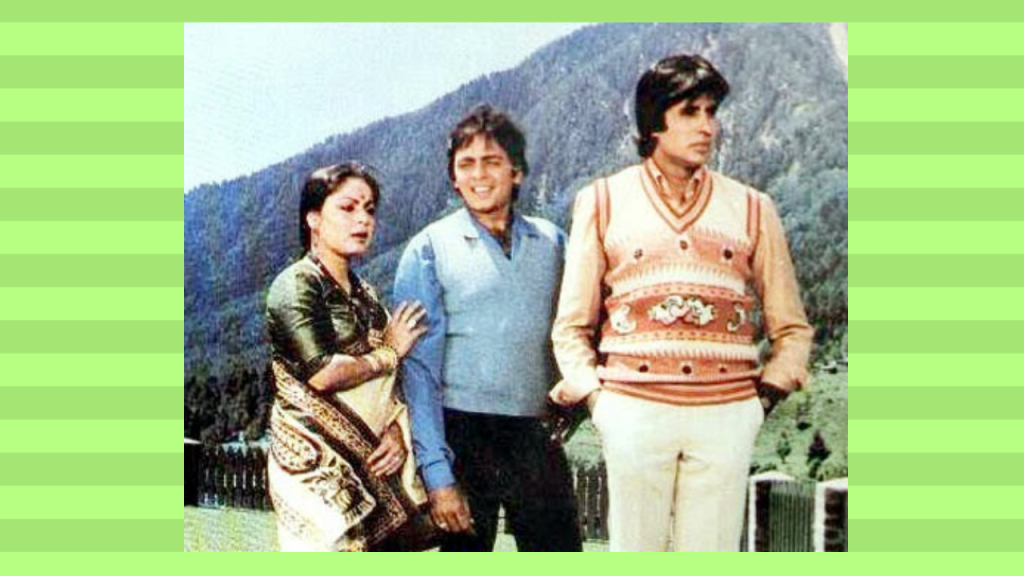 Music: R.D Burman
Lyrics: Anand Bakshi
Singers: Kishore Kumar, Suresh Wadkar, Lata Mangeshkar
A beautifully picturised song shot in a picturesque hill station covered with lush green hills and snowy mountains. "Kitni Khoobsurat Hai" is another master creation by R. D Burman. The sceneries and locales are simply spectacular and watching the lead actors Amitabh Bachchan, Rakhee Gulzar and Vinod Khanna spending quality time in the breathtaking locales give a certain sense of happiness. Anand Bakshi is too good with the lyrics.
Meethi Meethi Sardi Hai (1986)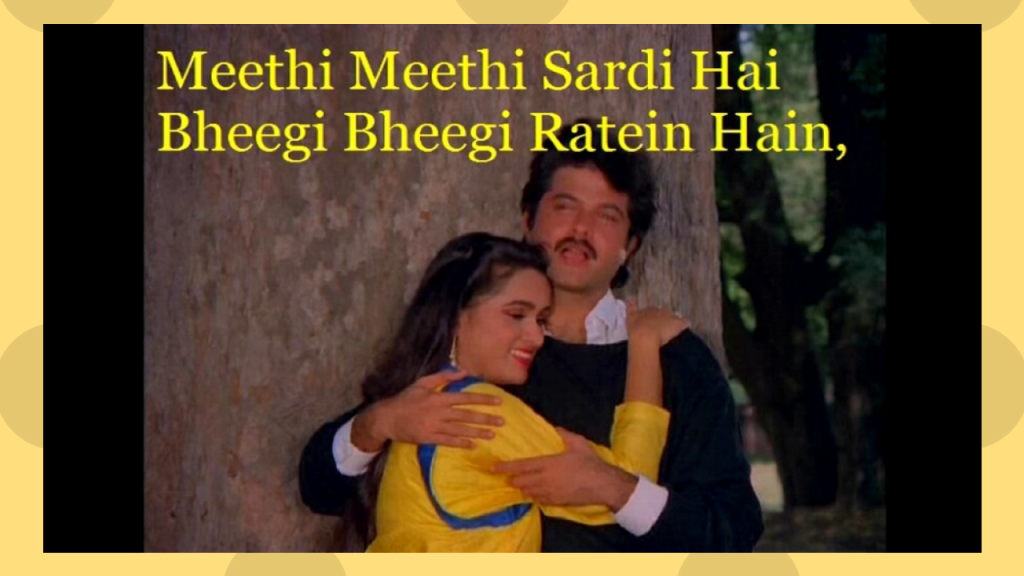 Music: Laxmikant Pyarelal
Lyrics: S.H Bihari
Singer: Lata Mangeshkar
A sweet song about the chilly winters, "Meethi Meethi Sardi Hai" from "Pyar Kiya Hai Pyar Karenge", the 1986 romantic film starring Anil Kapoor and Padmini Kolhapure will warm up your heart in this cold weather. Laxmikant Pyarelal's compositions were one of a kind and continue to charm us till today. Ignite the warm sparks in the chilling wintery weather with this song.
Zara Sa Jhoom Loon Main (1995)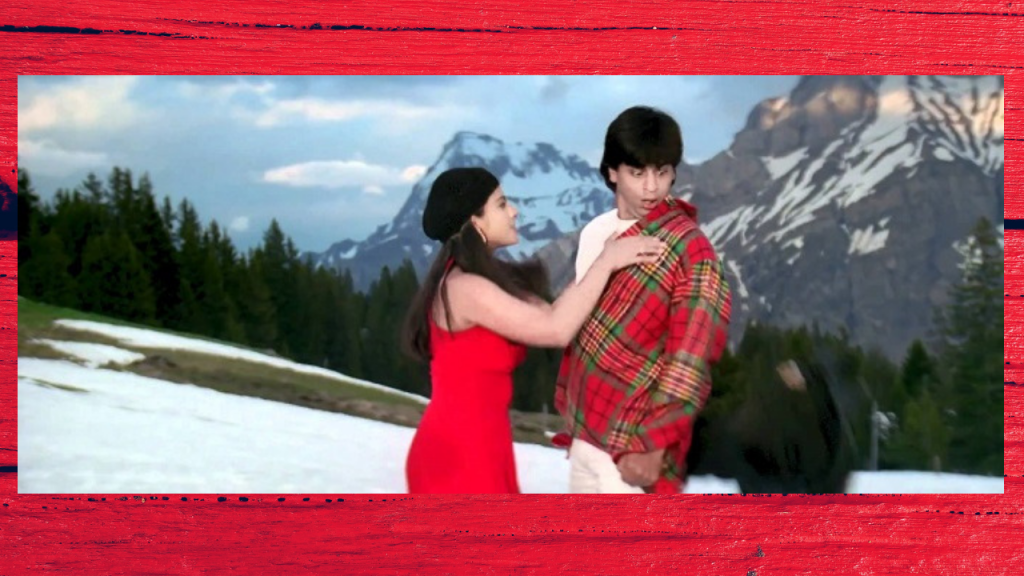 Music: Jatin-Lalit
Lyrics: Anand Bakshi
Singers: Abhijit Bhattacharya, Asha Bhosle
A wacky song from the all-time favourite Bollywood film "Dilwale Dulhaniya Le Jayenge". This song is wacky because, like most Bollywood songs we find Kajol doing weird things like dancing in the snow in a short, one-piece dress, she steals the dress after breaking the glass showcase where it's been displayed. Abhijit Bhattacharya's voice was the most perfect one for Shahrukh Khan, it's sad that he doesn't sing for Shahrukh anymore. Asha Bhosle's voice really suits Kajol.
Ye Ishq Haye (2007)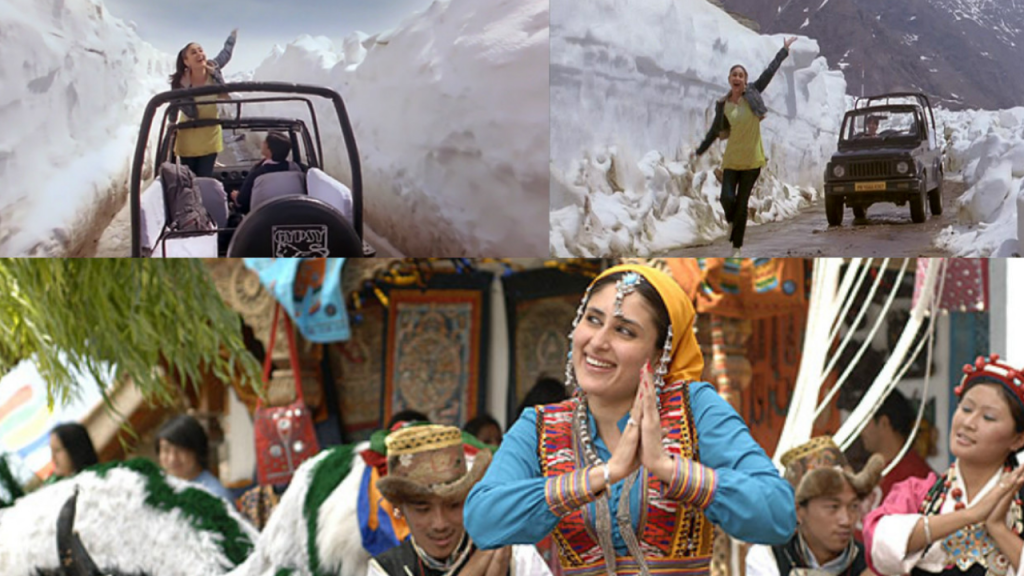 Music: Pritam Chakraborty
Lyrics: Irshad Kamil
Singers: Shreya Ghoshal
Director Imtiaz Ali has always been thanked by thousands of Bollywood movie buffs for exploring such extraordinary and unusually enchanting locations across India. This song sung by Shreya Ghoshal with Kareena Kapoor dancing in it became quite a peppy and catchy number amongst the youngsters way back in 2008-9. Thereafter Rohtang Pass, located at a height of 3979 metres, at a distance of 51 km from Manali "an extremely chilly location" became a sought-after Bollywood shooting location.
The mercury levels are dipping every day. Winter is the best time for trips, parties, get-togethers etc. Switch on your heaters, get inside your blankets and listen to these soothing winter melodies.
Enjoy the above-mentioned songs on https://goo.gl/3AzqAD, to read the blogs and reviews click on Blog/Review. To play your favourite Bollywood Musical games set in the pattern of Bollywood song quizzes check out the new version of the app https://goo.gl/Qyhuof. Don't forget to let us know about your most favourite melody in the comments.