Cabaret was extremely common in Bollywood all through the 60's, 70's and 80's. Originally, it was not a part of Indian culture and has travelled all the way from Europe.
These days we have item numbers. Similarly, earlier we used to have cabaret which was different because they were mostly performed in discos or bars where everyone would be seated in a particular pattern and there would be a stage in between or in the front for the dancers. Initially, the cabaret dancers would not be the lead heroine, but after a few years, the lead heroine could be seen doing Cabaret. Cuckoo and Helen were the very first dancers who broke the dance floor with their hits. Bindu, Faryal, Aruna Irani, Jayshree T, Padma Khanna and Leena Das were some of the other popular Cabaret Stars.
Recognise Your Favourite Cabaret Numbers To Reach The Top Of The Master Leaderboard
You all can log into the Gaana Pehchaana app to play TMK- 259 called "Before Item Songs, We Had Cabaret!". Most of the Cabaret numbers in the game are popular and top favourites. If you fail to recognise more than 3 times, you'll lose the game. Compete with other players and see whether you can reach the top of the Master Leaderboard or not.
Let's read a bit about hit Cabaret songs from various decades and see how much we know about them.
Huzure Wala Jo Ho Ijaazat (1966)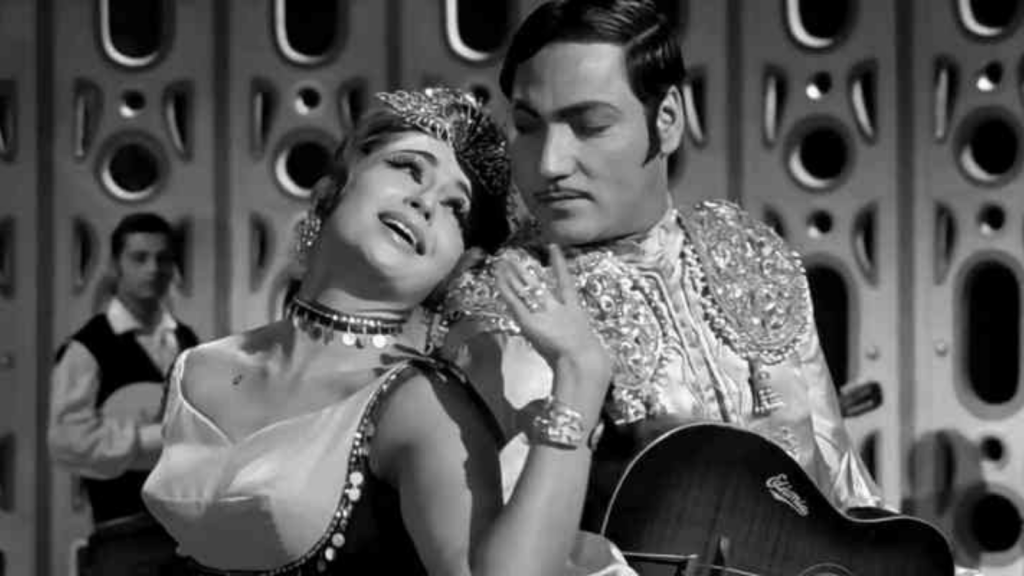 Source: https://cutt.ly/5v2T4g0
Music: O.P Nayyar
Lyrics: Kashmiri 
Singers: Asha Bhosle, Minoo Purshottam
Movie: Yeh Raat Phir Na Aayegi
"Huzure Wala Jo Ho Ijaazat" has the most perfect cabaret moves. Helen does the main dancing along with Madhumati, another yesteryear cabaret dancer. It is one of the very few black and white films with a cabaret sequence. Asha Bhosle's singing shows why she was called the Queen of peppy dance numbers. No words for Minoo Purshottam who sings equally well. Those of you who are fond of dancing can try out these classic moves.
O Haseena ZulfonWale Jaane Jahan (1966)
Source: https://cutt.ly/Yv2YtRh
Music: R.D Burman
Lyrics: Majrooh Sultanpuri
Singers: Asha Bhosle, Mohammed Rafi
Movie: Teesri Manzil
In this one Shammi Kapoor, the Elvis Presley of Bollywood and Helen, the Anglo Burmese Dancing Diva light up the stage with their moves. In fact, they made the song more popular. R.D Burman and Asha Bhosle always rocked with these pop and cabaret numbers. The composition is so powerful that it has still not lost it's charm. Maybe we might even get to hear a remix of it in the future. The part where Shammi plays the Saxophone is worth watching.
Aaj Ki Raat Koi Aane Ko Hai (1973)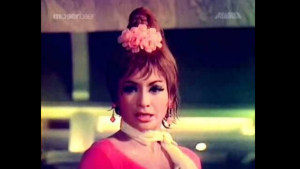 Source: https://cutt.ly/Ev2YpBu
Music: R.D Burman
Lyrics: Majrooh Sultanpuri
Singer: Asha Bhosle
Movie: Anamika
This song weaves a certain mystery around it. Majrooh Sultanpuri's words and R.D Burman's music create a thrilling atmosphere and the sweetness of Asha Bhosle's voice adds a mix of emotions to it. Helen's cabaret becomes a sensation. The song is such that it can be easily used to portray mystery and thriller  scenes. You'll absolutely enjoy the beat of the congo and bongo and the chorus singing Shubhu Shubhu Shubhu Shubhu.
Jab Chhaye Mera Jadoo (1980)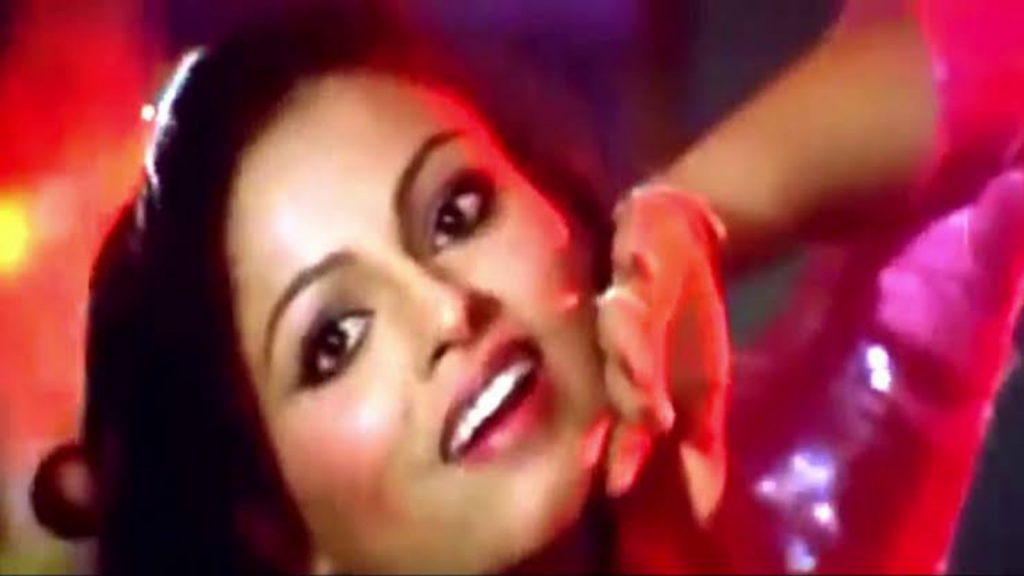 Source: https://cutt.ly/Lv2Yg10
Music: Rajesh Roshan
Lyrics: Amit Khanna
Singer: Asha Bhosle
Movie: Lootmaar
A super duper hit song that can still put any party to fire. "Jab Chhaye Mera Jadoo" was specially created for the climax of "Lootmaar" film produced and directed by Dev Anand.  Dev Anand can be seen hunting for the culprit throughout the song. Rajesh Roshan and Amit Khanna composed and wrote all songs for the film and as usual the Pop Queen Asha Bhosle sang it in her own glamorous style.
Sanam Tum Jahan (1981)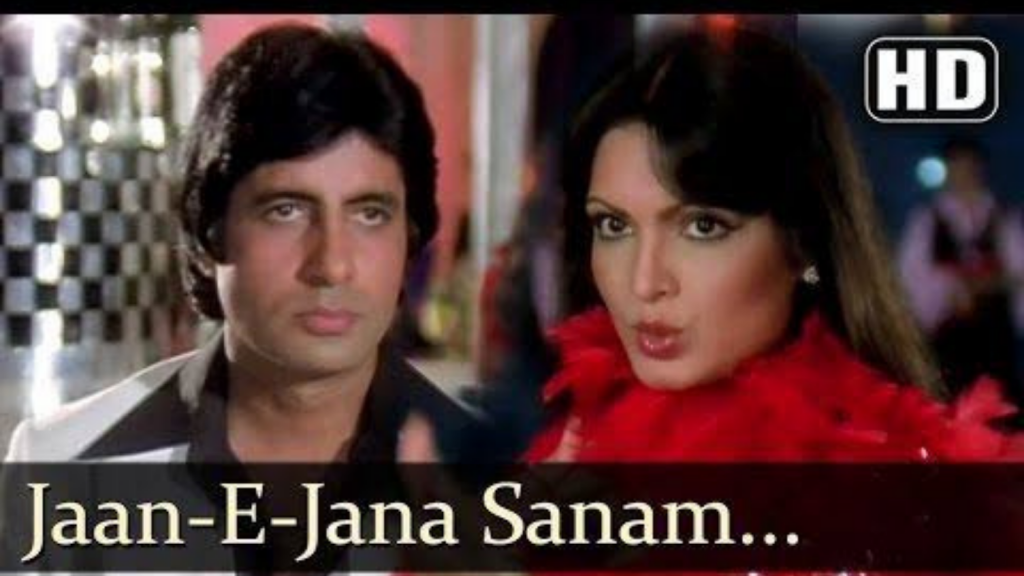 Source: https://cutt.ly/Uv2YzV5
Music: R.D Burman
Lyrics: Majrooh Sultanpuri
Singers: Asha Bhosle
Movie: Kaalia
Parveen Babi, the lady in red slays with her killer dance moves. She has her unique way of dancing and looks absolutely stunning with Amitabh Bachchan, as he joins her to show some of his dance moves.
R.D Burman was extremely talented when it came to creating these pop numbers for Asha Bhosle. The film highlighted Amitabh Bachchan's Angry Young Man Image in those days and was a turning point in the career of both Bachchan as well as Parveen Babi.
Raat Baaki, Baat Baaki (1982)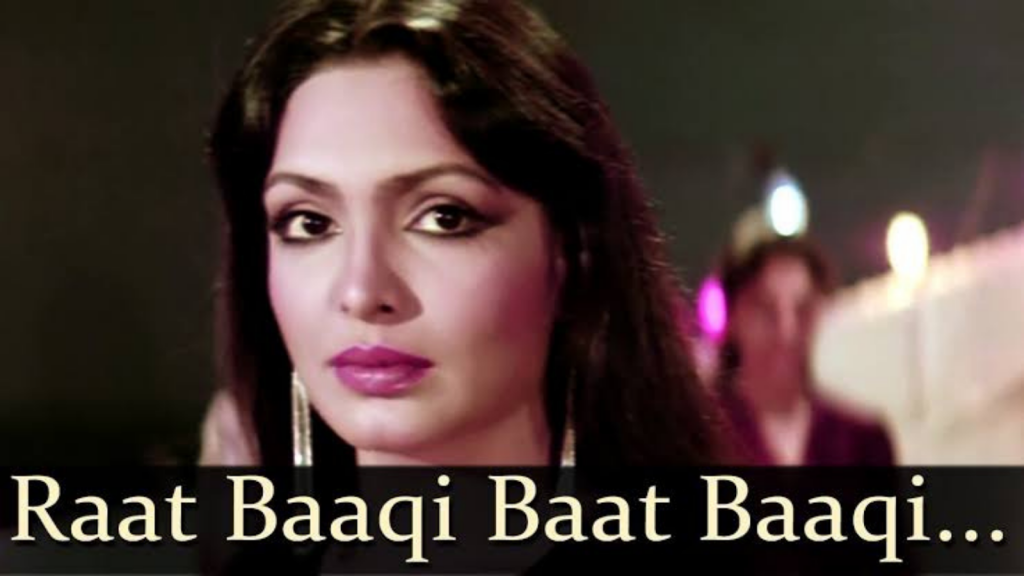 Source: https://cutt.ly/Mv2Ynhm
Music: Bappi Lahiri
Lyrics: Anjaan
Singers: Asha Bhosle, Bappi Lahiri, Shashi Kapoor
Movie: Namak Halal
The bold and gorgeous Parveen Babi never fails to impress with her moves. The Raat Baaki Baat Baki moves are just epic. Elements of Giorgio Moroder's disco track "I Feel Love" found its way into this song. The innovative Electronic sequencing with the use of four beats and the repeating vocals with synth layering make it sound so special and different. It is Bappi Lahiri, Anjaan and Asha Bhosle's creativity that add to it's awesomeness. Even Shashi Kapoor tried his best with the vocals.
Kaisi Paheli Zindagani(2005)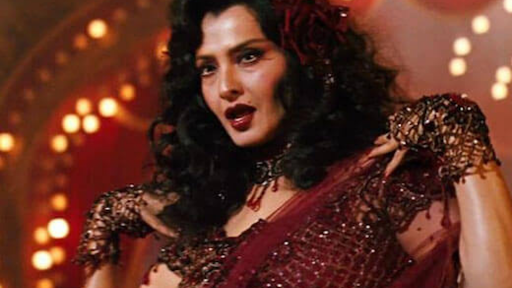 Source: https://cutt.ly/Gv2YEGU
Music: Shantanu Moitra
Lyrics: Swanand Kirkire
Singer: Sunidhi Chauhan
Movie: Parineeta
These days cabaret numbers have been replaced by Item numbers, but still one or two typical examples of Cabaret can be seen. "Kaisi Paheli Zindagani" is one such classic example shot in a premier night club at Darjeeling. Rekha is seen doing the cabaret sequence and she does it really well. Her poise, grace and charm give a vintage appearance to the song. The part where she plays the Saxophone sounds divine. The lyrics by Kirkire, the music by Moitra and Chauhan's singing create something very rare and unique.
Cabaret Dancers would be considered bold and daring in the 50s and 60s when these dance forms were not that common. It took a lot of effort to perform cabaret dance sequences and they were not a cheap affair. There is always a lot of demand for choreographers in Bollywood, as the entire industry thrives on dancing and singing. The storyline or plot of the films are less important than the dance sequences. The only significant change that can be seen in Bollywood dancing is that the Cabaret style has changed to Item Numbers, which are performed anywhere and everywhere, like streets, garden, terrace, hallway or theatre.
Gaana Pehchana Celebrates The Spirit Of Hindi Film Music Through Games And Blogs
Hindi Film Music has been loved, cherished and celebrated since the 1930s or so. People love the films and the stars who act in the songs, but the directors, singers and lyricists go unnoticed. Gaana Pehchaana is a small attempt to pay tribute to them through the Musical Guessing games Teen Maar Khan, Aur Sunao, Bhagam Bhag and entertaining blogs full of rare facts, little known stories and lots of information on Bollywood Music.
Play Live, Play Against Others
Another fun thing launched by Gaana Pehchaana is GaanaP Live!  It's a LIVE Game Show in which you can play together with fellow Bollywood Music Fans from around the world. You can get invited to the next GaanaP Live by registering here. Check out these videos on YouTube to learn more about GaanaP Live!
Install the app on Android or iOS to experience the best of Bollywood music, gaming, quizzes, blogs and a lot more.