It is not a lie that animals are more faithful than humans. Some of the best Bollywood films are about animals saving the lives of their human companions putting their own life to stake.
Well, whenever we are in trouble, our animal friends can sense it because of their 6th sense power. We humans don't have the ability to predict any danger or perceive problems at the right time like our bird and animal friends who are more equipped than us in recognizing the dangers prevailing around them.
They can even sense natural calamities faster than us. They are a part of the environment around us and if we can't love them, at least we shouldn't harm them.
Keep Reading today's Gaana Pehchaana blog to know how these creatures with the biggest souls help bring a big smile on the faces of their companions in popular Bollywood movies.
The Visiting Crow In Bhor Hote Kaga Pukare- 1969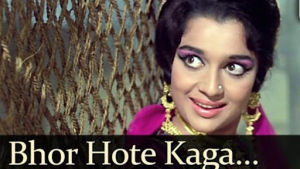 Source: https://bit.ly/3kbQngN
Music: Madan Mohan
Lyrics: Majrooh Sultanpuri
Singers: Lata Mangeshkar
Movie: Chirag
Chirag is mostly known for the song "Teri Aankhon Ke Siwa", but "Bhor Hote Kaga Pukare" is a unique composition by Madan Mohan, written by Majrooh Sultanpuri and sung by Lata Mangeshkar.
Bhor Hote Kaga Pukare is about this cute crow who comes to visit Asha at the break of the dawn. Asha is most probably putting up an act and is being watched by Sunil Dutt and others in the theatre.
Asha lovingly asks the crow to flee away and not disturb her as she has a lot of work to do.
Fun With Teetars And Camels In Teetar Ke Do Aage Teetar (1970)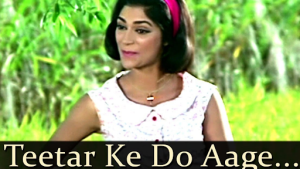 Source: https://bit.ly/380RNoF
Music: Shankar- Jaikishan
Lyrics: Hasrat Jaipuri
Singers: Asha Bhosle, Mukesh
Movie: Mera Naam Joker
Teetar is usually a rare variety of bird, also known as partridge in English. This song is a children's song about Teetar, but the song also shows Simmi Garewal playing with high humped camels. The music and lyrics exude a fun atmosphere. With time, people have forgotten this melody, but if revived as a children's song, it will be a big hit even today.
Saviour Elephant In Nafrat Ki Duniya Ko Chhod Ke (1971)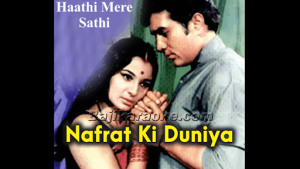 Source: https://bit.ly/3giQHZS
Music: Laxmikant- Pyarelal
Lyrics: Anand Bakshi
Singer: Mohd. Rafi
Movie: Haathi Mere Sathi
To be Honest, Hindi Cinema has never been able to create a children's feature film of such stature as Haathi Mere Saathi. It was the highest grossing film in 1971, not just in India, but also in the Soviet Union. Anand Bakshi wrote this song depicting the death sequence of the heroic elephant Ramu, who dies trying to bring together his master Raju's family.
Laxmikant-Pyarelal created amazing music for this heartrending number sung by Rafi that talks about Ramu having left this world full of hatred and wickedness.
A Pair Of Swans In O Hansini Meri Hansini (1974)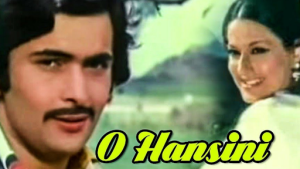 Source: https://bit.ly/3gn0gXP
Music: R.D Burman
Lyrics: Majrooh Sultanpuri
Singer: Kishore Kumar
Movie: Zehreela Insaan
Zehreela Insaan was a big flop, but this track became such a phenomena that it continues to live on within us.
 This shows that a composer like R.D Burman could never go wrong. With the help of Sultanpuri's words and Kishore Kumar's glorious voice, O Hansini became a heart touching dedication to a female swan.
 The female swan in the song is actually Moushumi Chatterjee, who can be seen dressed up as a white swan. A pair of swans floating in the water is mostly shown as a symbol of love. Rishi Kapoor and Moushumi Chatterjee play the swans really well.
Minoo's Dear Goat In Kali Re Kali Re Tu Toh Kali Kali Hai (1977)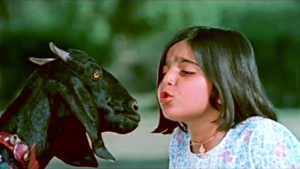 Source: https://bit.ly/3gl7fAw
Music: Salil Chowdhury
Lyrics: Yogesh Gaud
Singers: Antara Chowdhury
Movie: Minoo
This one's a lovely song starring little Minoo caressing her darling goat in jet black. Minoo lip syncs to the heartfelt melody composed by Salil Chowdhury and sung by his daughter Antara. Antara Chowdhury was a child artist at that time.
Yogesh Gaud, the person who wrote the lyrics for classic melodies like Kahin Door Jab Din Dhal Jaye, Zindagi Kaisi Hai Paheli and Rajnigandha Phool penned down the lyrics for this sweet track portraying the true innocence of a little girl who runs away from the city with her goat and an unknown baby.
Enacting Tota And Maina In Main Tera Tota, Tu Meri Maina (1988)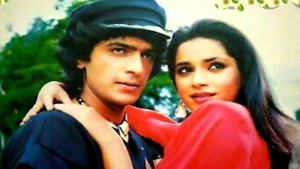 Source: https://bit.ly/3szsN1j
Music: Bappi Lahiri
Lyrics: Anjaan, Kishore Kumar
Singers: S. Janaki
Movie: Paap Ki Duniya
Well, there is no real Tota or real Maina in this song. The Tota and the Maina are only dummies held by Chunky Pandey and Neelam Kothari. Chunky and Neelam are calling each other their Tota and Maina.
In legends, Tota and Maina are known as Love Birds. These birdie names suit the love birds. It's a rare song for which Kishore Kumar has given the lyrics. S. Janaki, one of the most popular playback singers from Andhra Pradesh sang the lilting melody. The composition is true to Bappi Lahiri's style.
Messenger Pigeon In Kabootar Ja Ja (1989)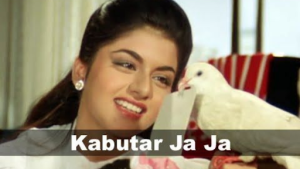 Source: https://bit.ly/2XAPSFm
Music: Raam Laxman
Lyrics: Dev Kohli
Singer: Lata Mangeshkar, S.P. Balasubramaniam
Movie: Maine Pyar Kiya
The Maine Pyar Kiya Soundtrack was popular beyond words when released, but there is just one song in the entire album that involves a bird.
The pigeon was the most trained bird in history. The Kings and Queens reigning during the olden days were said to send letters with the help of pigeons. They just had to tie these letters at the feet of the pigeons.
In this song, we find Bhagyashree and Salman doing the same thing, tying love letters at the feet of a snow-white pigeon. The master of music Ram-Laxan, has composed and sung the song. We really miss him. There won't be another like Vijay Patil, he gave the biggest gems to Bollywood.
Bhagyashree rocked in this role. Maine Pyar Kiya being her debut film and Sooraj Barjatya created an epic with this directorial debut of his.
Dancing Peacocks In Mhare Hiwda Mein Naache Mor (1999)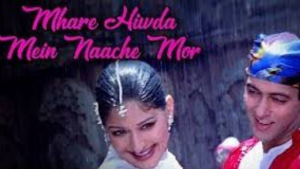 Source: https://bit.ly/3D7E7GU
Music: Raam Laxman
Lyrics: R. Kiran
Singers: Alka Yagnik- Hariharan, Kavitha Krishnamurthi- Kumar Sanu, Anuradha Paudwal- Udit Narayan
Movie: Hum Saath Saath Hain
This well-known song from the more well-known film Hum Saath Saath Hain is about Peacocks dancing in the garden.
R.Kiran wrote parts of the lyrics in some dialect from Rajasthan and our trio of actors and actresses look dazzling while dancing like peacocks around the fort courtyards and gardens of Rajasthan.
Mhare Hiwda Mein and Maiyya Yashoda were the biggest hits in the album. This was because of Ram-Laxman's versatility and the alluring voices of our singers.
Our lives revolve around animals and birds. Most of our movies and songs have the theme of animals and birds in them. It's not just the hero and the heroines in the films, who are saved by these friendly creatures but many amongst us have also been pulled out of danger by these four legged beings. We'll come up with a list of many more such songs in some other blog.
Gaana Pehchaana Makes Musical Gaming Enjoyable!
On Gaana Pehchaana, we celebrate Hindi Film Songs of every genre as well as the people who work day and night to compose, write and sing the songs.
While playing the games, you can make choices for your favourite category of songs, decades, difficulty level and a lot more. You can participate in the live gaming events as well as play the online Teen Maar Khan, Bhagam Bhag and Aur Sunao games.
Install the Gaana Pehchaana app from iOS or Android to discover all that Gaana Pehchaana has to offer to you!