What's it about those gorgeous doe eyes adorned with kohl that make our Bollywood heroes go weak in the knees? Read this full Gaana Pehchaana blog to know about the secret of beautiful eyes.
We feel that the maximum songs in Bollywood are written about eyes. It is a predominant theme.
Aankhen, Naina, Nazrein & Nigaah Songs- The True Gems Of Our Bollywood Music Industry
Eyes are the mirror to the soul and Aankhen, Nigaahen, Nazar, Naina songs are the mirror to the Bollywood Music industry.
In our last blog on eyes, we couldn't include every eye song that came to our mind, there are so many more all-time favourite eye melodies that will make you nostalgic and refresh your mood anytime you listen to them.
Let's get to know everything about these mood-lifting songs and don't forget to play the 3 top-favourite musical games Teen Maar Khan, Bhagam Bhag and Aur Sunao on the Gaana Pehchaana app.
Secret Eye To Eye Conversations In -Aankhon Hi Aankhon Mein Ishara (1956)
Source: https://bit.ly/3j1lA5M
Music: O.P. Nayyar
Lyrics: Jaan Nisar Akhtar
Singer: Geeta Dutt
Movie: C.I.D
Who doesn't enjoy this evergreen classic from C.I.D? It is one of O.P Nayyar's finest compositions till date. It was a high-tech thriller and one of the finest thrillers released in Bollywood during those days. Geeta Dutt stole our hearts with this heartfelt number. Dev Anand and Shakila steal the credits through their eye games, kiddish fun and superb acting in the Guru Dutt film C.I.D.
Arrow Like Gorgeous Eyes Piercing The Heart In O Nigahen Mastana (1957)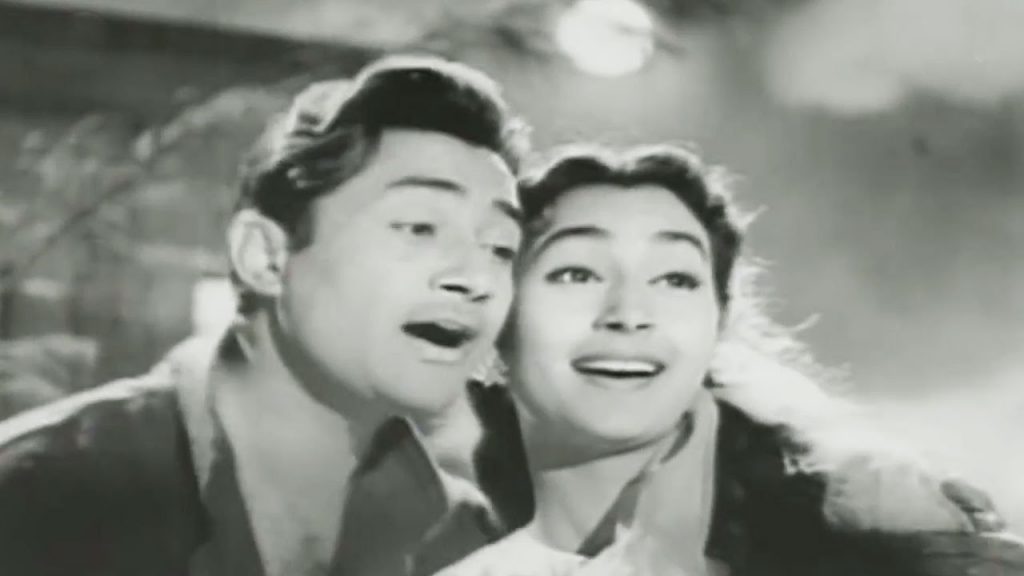 Source: https://bit.ly/3ffZwmS
Music: Sachin Dev Burman
Lyrics: Majrooh Sultanpuri
Singers: Asha Bhosle, Kishore Kumar
Movie: Paying Guest
Songs like "O Nigahen Mastana", "Chod Do Aanchal" and "Mana Janab Ne Pukara Nahi" from the 1957 "Paying Guest" album became blockbuster hits. Till today these songs can be heard at most Indian parties, but unfortunately, the Musician, lyricist and the singers did not get applauded for their songs as much as the stars who acted in the film. These songs are really precious and need to be treasured, as we won't be able to come across such songs any more.
I Live & Die Under The Shadow Of Your Eyes In Teri Aankhon Ke Siwa Duniya Mein Rakha Kya Hai (1969)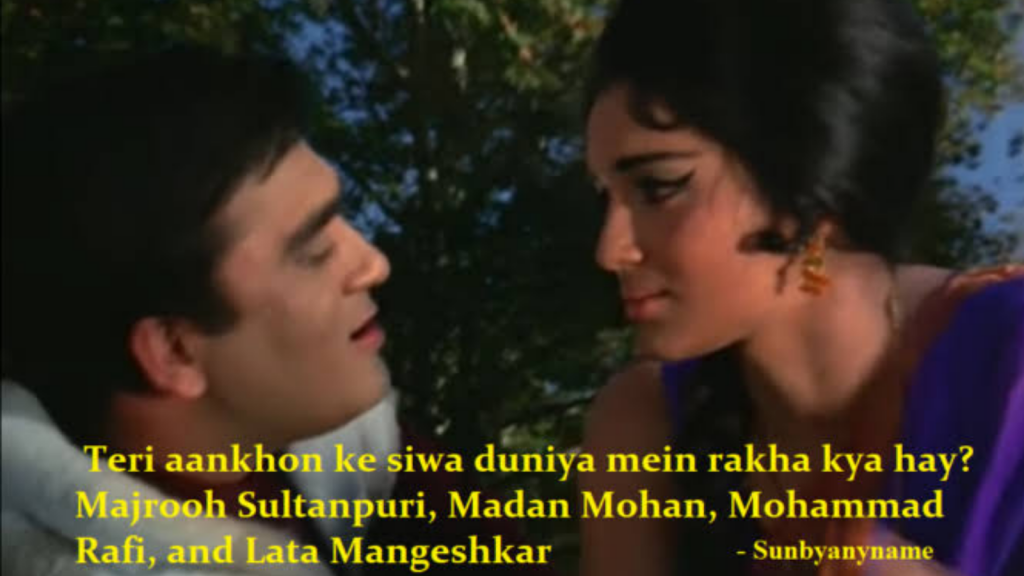 Source: https://bit.ly/3hbaslM
Music: Madan Mohan
Lyrics: Majrooh Sultanpuri
Singers: Lata Mangeshkar, Mohammad Rafi
Movie: Chiraag
This amazing track brings to mind Asha Parekh and Sunil Dutt's romantic exchange of glances where Sunil Dutt can be seen singing "Ye uthe subah chale, ye jhuke shaam dhale" dedicating it to Asha Parekh's gorgeous eyes.
Raj Khosla, the director of Chiraag wanted Majrooh Sultanpuri to borrow a few lines from Faiz's poetry for "Teri Aankhon Ke Siwa", so Sultanpuri used some of the lines after seeking proper permission. It's a heart melting number that can still make you go weak in the knees.
Let The Love Remain Unnamed In Humne Dekhi Hai In Aankhon Ki Mehakti Khushboo (1970)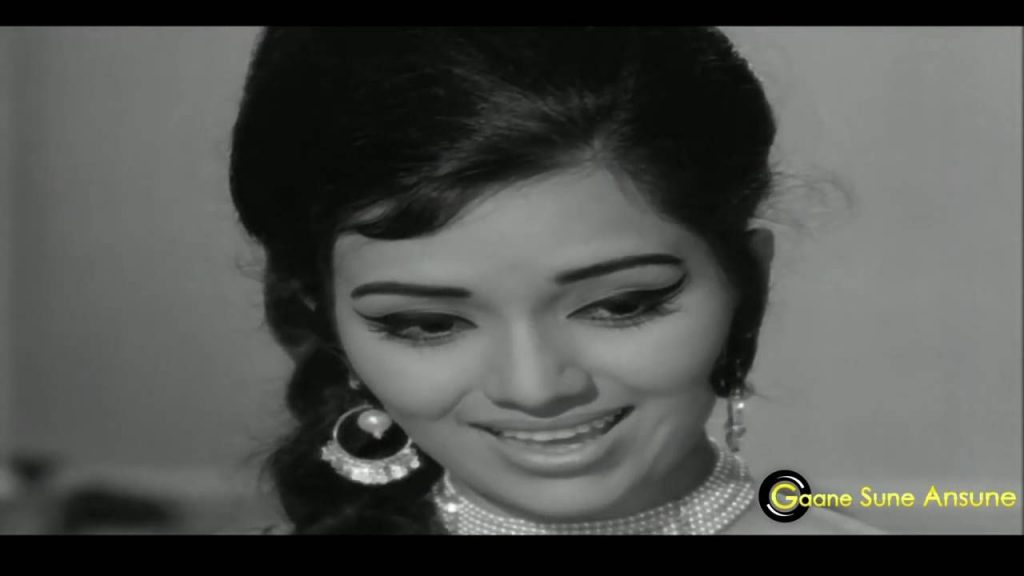 Source: https://bit.ly/3xlr94k
Music: Hemant Kumar
Lyrics: Gulzar
Singer: Lata Mangeshkar
Movie: Khamoshi
An Aankhein song with deep emotions. This song is about Waheeda Rehman getting attached to her patients as she serves them as a nurse. Hemant Kumar, as we know, gave some of the best compositions to Bollywood. Gulzar's words exude deep meaning and Lata Mangeshkar turned this melody into an iconic one. True Hindi Film Music lovers still enjoy listening to this mellifluous melody.
The Secret In Your Eyes Speaks Of Your Beauty In Aap Ki Aankhon Mein Kuch (1978)
Source: https://bit.ly/3leDUel
Music: R.D Burman
Lyrics: Gulzar
Singers: Kishore Kumar Lata Mangeshkar
Movie: Ghar
This is an epic number from the all-time favourite Rekha and Vinod Mehra starrer "Ghar". R.D Burman created magic and Gulzar created the spine of the song that was wonderfully sung by Lata Mangeshkar and Kishore Kumar. 
Kishore Kumar was said to have wrongly sung Gulzar's words "Jab Hile" as "Lab Hile", but it was released with Lab Hile and the mistake was accepted. People remember the film and the acting but without the music this epic drama and the amazing storyline could not have been expressed this way.
I Love Your Eyes More Than My Life In Humko To Jaan Se Pyari Hai Tumhari Aankhen (1973)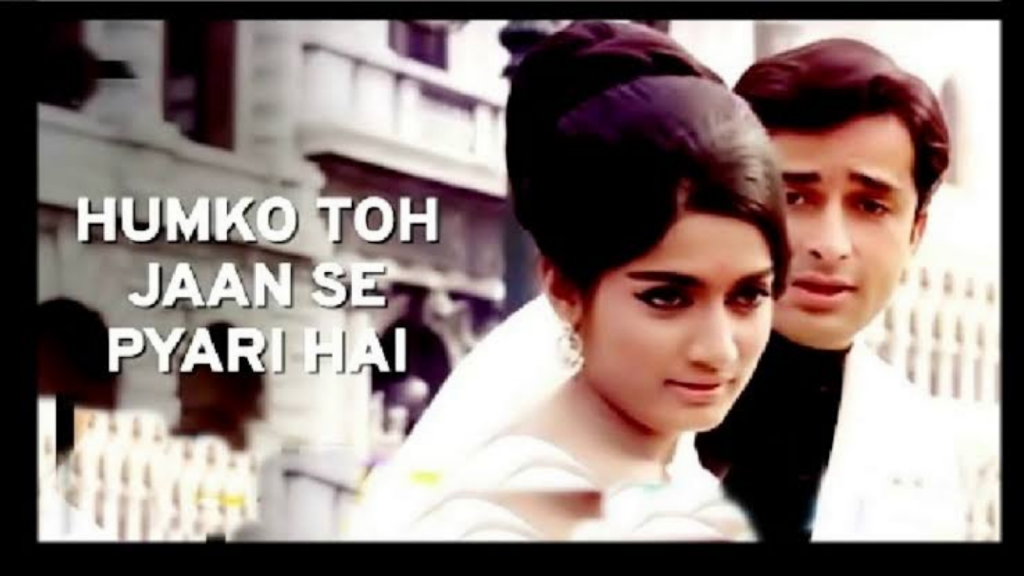 Source: https://bit.ly/3rKn3Bs
Music: Shankar Jaikishan
Lyrics: Hasrat Jaipuri
Singer: Mohd Rafi
Movie: Naina
Humko To Jaan Se Pyari Hai Tumhari Aankhein is from the 1973 film named Naina which again means eyes. Well, Shashi Kapoor can be seen all smitten by Moushumi Chatterjee's gorgeous eyes. Her eyes look glamorous and they are also in a beautiful shade.
He woos her the way most Bollywood heroes do and it makes the both of them look amazing with the mind blowing European architecture in the background.
Mohd Rafi was even nominated for Filmfare for the Best Male Playback singer and Shankar Jaikishan as well as Hasrat Jaipuri were lauded with appreciation, which acted as a ladder to success in their journey.
Lamp Of Dreams Burning In Your Eyes In Roz Roz Aankhon Tale- (1986)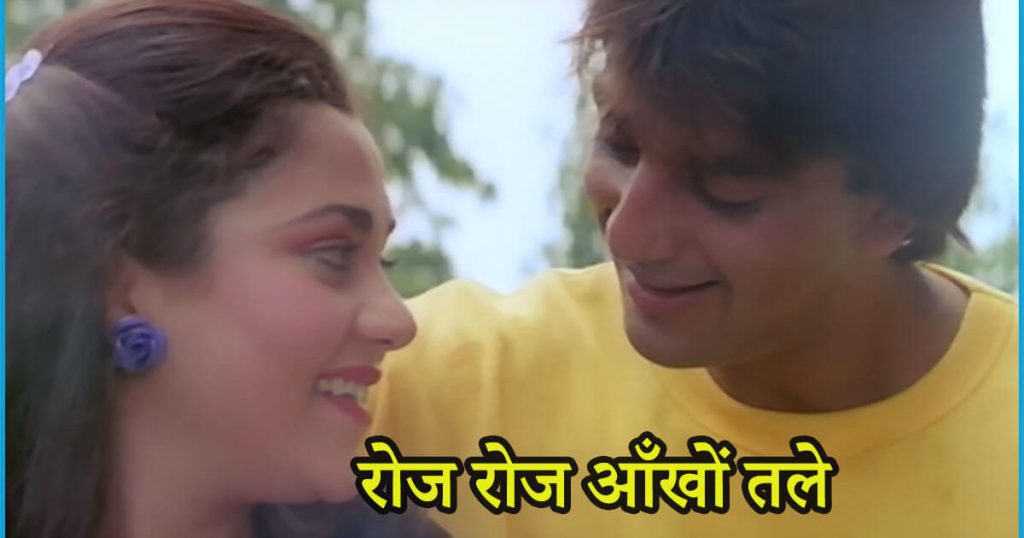 Source: https://bit.ly/3ygDp7m
Music: R.D Burman
Lyrics: Gulzar
Singer: Asha Bhosle, Amit Kumar
Movie: Jeeva
This R.D Burman composition penned down by Gulzar has always been a true masterpiece by Asha ji and Amit ji. The song is all about new dreams shining in somebody's eyes and Sanjay Dutt, Mandakini shone on the screen because of their impeccable acting and our highly talented musicians. These songs belong to the days of yore when songs dedicated to the heroine's eyes were depicted in a different way.
What's The Fault Of The Eyes That It's Smitten By A Pretty Face In Naina Da Kya Kasoor (2018)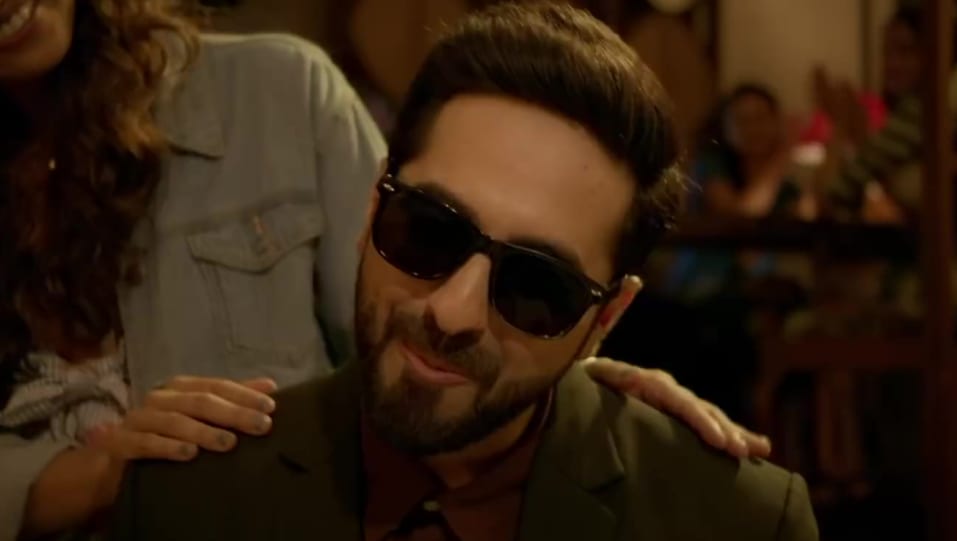 Source: https://bit.ly/37bRIy8
Music: Amit Trivedi 
Lyrics: Jaideep Sahni
Singer: Amit Trivedi
Movie: Andhadhun
This track and the entire album received positive reviews from music critics. Some even said that it has an old world charm to it that cannot be anymore found in today's songs. The tune is all about the magic of piano. The piano depicts Ayushman Khurana's moods throughout the song as he is seen playing the piano.
Amit Trivedi got all thumbs up for his attempt at composing as well as singing this song. Jaideep Sahni did a brilliant job with the lyrics. We even loved Radhika Apte's role in the film and her portrayal in this number.
Musical Games For A Fun Evening!
Which of these songs would you dedicate to your beloved? Or which of these is your favourite? Comment below.
Hope we were able to inform you about these songs and all the people who helped make these songs such big hits, the directors, lyricists, singers, instrumentalists and the actors who shone on screen. Next time you play some musical game in which you need to sing aankhein, naina, nigah or nazrein songs, you can check out these blogs. You should also try out the Teen Maar Khan, Bhagam Bhag and Aur Sunao games on our app as well as participate in Live Gaming Sessions. Install the app and enjoy everything that Gaana Pehchaana has to offer!