Bollywood is renowned for its peppy, fun numbers which create a light, refreshing mood. Most of these songs take us away from the harsh realities of life and make us look at the jovial side of it. Isn't it?
We forget our worries, keep our brains away and go in for some time pass, but there is another side to Bollywood music! Can you guess what it is?
It has introduced us to some of the most talented lyricists who write songs that have the power to change our society in unimaginable ways.
Let us know more about some of these songs that have changed the prevailing societal notions.
Apni Azadi Ko Hum (1964)
Source: https://cutt.ly/pkaEvXj
 Lyrics: Shakeel Badayuni
Singer: Mohammad Rafi
Music Director: Naushad
Movie: Leader
A masterpiece by Naushad, this song has won over the hearts of millions. The most popular revolutionary song of all time, it is a superb melody in the voice of Mohammad Rafi. Shakeel Badayuni had intelligently penned down the lyrics. It stirs revolutionary feelings against corrupt politicians who accrue money from large businesses. The film gives power to individuals and motivates them to change the evil within themselves. Dilip Kumar rocks in the hero's role. He gathers people to bring about a change through his song. The revolutionary elements of this film are relevant even today.
Duniya O Duniya Tera Jawab Nahi (1971)
Source: https://cutt.ly/qkaWlNz
Music: S. D Burman
Lyrics: Anand Bakshi
Singer: Kishore Kumar
Movie: Naya Zamana
If there is a melody from old Bollywood that vibrantly shows the reality of things happening in the world, then this is the most appropriate one. Dharmendra lip-syncing to the melody sung by Kishore Da makes the song worth watching. Nothing can beat senior Burman's composition and Anand Bakshi's meaningful lyrics. This song is a truth about the mirage-like world that is ever ready to deceive us.
Yeh Andha Kanoon Hai (1983)
Source: https://cutt.ly/0kaWAt
Music Directors: Laxmikant Pyarelal
Singer: Kishore Kumar
Lyrics: Anand Bakshi
Movie: Andha Kanoon
People say that lyricists do not write all the time but when the right situation arrives they can pen down the most appropriate songs ever. This song is like a revolt against the prevailing judicial system. It raises voice against the wrong deeds of the powerful against the less powerful or the privileged against the less fortunate. This melodious song is a song of great substance. The legends Laxmikant- Pyarelal, Kishore Kumar and Anand Bakshi did a great job at creating this gem.
Khoon Chala (2006)
Source: https://cutt.ly/ykaWCKk
Singer: Mohit Chauhan
Music: A. R. Rahman
Lyrics: Prasoon Joshi
Movie: Rang De Basanti
A powerful anthem from the 2006 film 'Rang De Basanti', "Khoon Chala" is a shout out to the youngsters of our country to come together on the streets for protesting against injustices. This song first gave rise to candle marches. Everyone getting united for protests and raising voice together shakes up the system. A.R Rahman, Prasoon Joshi and Mohit Chauhan's trio have done a great job with this number that created a massive wave in 2006 and continues to inspire till today.
Give Me Some Sunshine (2009)
Source: https://cutt.ly/jkaW8vf
Music Director: Shantanu Moitra
Singer: Suraj Jagan
Lyrics: Swanand Kirkire
Movie: 3 Idiots
It became an anthem for the students who have been burdened by the massive pressures of the education system. It's like a breath of fresh air that lets students enjoy the little things in life. Shantanu Moitra's composition has some eclectic vibes that all youngsters can relate to. Suraj Jagan's voice does complete justice to Swanand Kirkire's lyrics. It is going to remain evergreen for all the years to come.
Mehangai Daayen Hain (2010)
Source: https://cutt.ly/4kaEwFP
Singers: Bhadwai, Brij Mandal, Raghubir Yadav
Lyrics: Swanand Kirkire
Music: Ram Sampath
Movie: Peepli Live
A sarcastic melody from the 2010 satirical comedy "Peepli Live", this one has been sung from the point of view of a Farmer's wife who cries that her husband earns a lot of money, but the inflation witch or "Daayein" gobbles up everything and they are not left with anything. Singers Bhadwai, Brij Mandal and Raghubir Yadav deserve appreciation for their rib-tickling tones. Ram Sampath has done his best with the music like always but the backbone of this song is the crazy lyrics by Swanand Kirkire.
Janta Rocks (2013)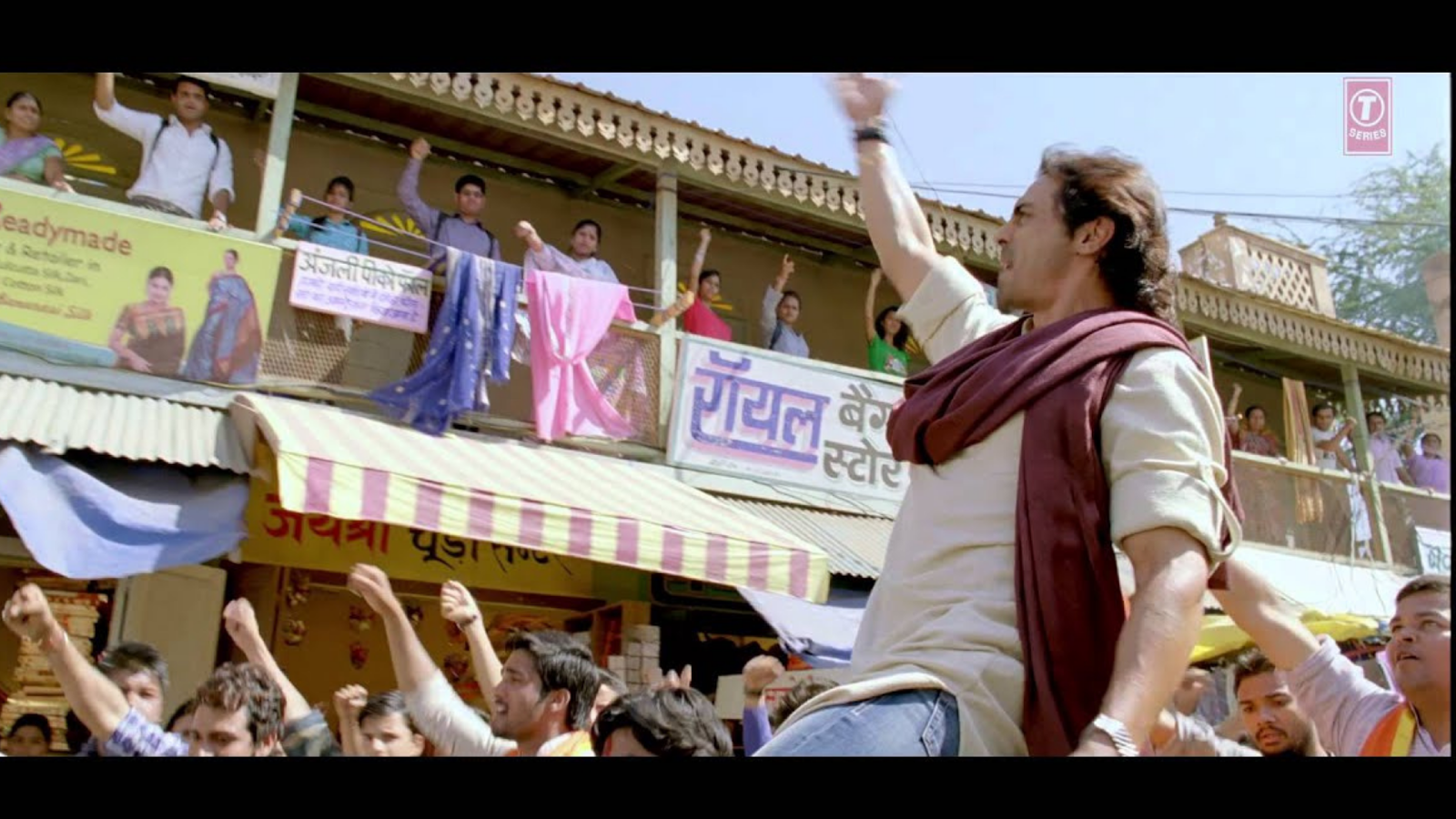 Source: https://cutt.ly/ikaRII0
Singer: Meet Bros, Anjaan
Lyrics: Parsoon Joshi
Music: Meet Bros, Anjaan
Movie: Satyagraha
It's a little hard to come across songs that straightaway show protest against the political system and the prevailing hypocrisy in the society. This number gives power to the people of India to stand up against corrupt politicians and vote for the right ones. The composition does proper justice to the spirit of the song. Prasoon Joshi needs accolades for his innovative lyrics. It has been recognised as one of the best songs from the political thriller Satyagraha.
Hope you got to know a lot about the most popular Bollywood Revolutionary Songs that inspired us and made us brave. Bollywood isn't always about having fun, but it is also about fighting against the wrong.
To play interesting Bollywood Music Quizzes and update your knowledge on Bollywood Musical Songs, install the GaanaPehchaana Bollywood Musical Gaming App from Playstore or App Store Now!