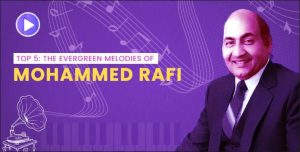 Mohammad Rafi was born on the 24th of December, 1924 in Kotla Sultan Singh, close to Amritsar, in Punjab, British India and died on the 31st of July, 1980. He recorded an unbelievable number of 25,000 songs in a career of 40 years.
Rafi voiced songs for all the top stars of the day. His greatest talent was the ability to match his voice to the persona of the character played by the actor. Thus, he sounded like the romantic hero Dilip Kumar when he sang "Tere husn ki kya tareef Karun" in the movie Leader, the soul of Guru Dutt in songs like "Yeh duniya agar mil bhi jaaye to kya hai" from Pyaasa, the uncontrollable Shammi Kapoor singing "Yahoo" in Junglee and also the mischievous Johnny Walker offering a "Tel malish" in Pyaasa. (Very nice!!) His duets with various leading playback singers of Bollywood were equally loved and gained a lot of popularity.
It is almost impossible to select a few favorites fromRafi Saab's amazing body of work, but we offer a few gems here for your consideration:
Madhuban Mein Radhika Nache Re (1960)
Movie: Kohinoor
Singers: Mohammed Rafi
Music: Naushad Ali
Lyrics: Shakeel Badayuni
People say that in this song, Rafi Sahab's voice is like a whiff of cool air on a hot summer day, warm sunshine on a cold, chilly morning and fresh rainfall in a burning desert. He along with Shakeel Badayuni, our talented songwriter, brought to life the spectacular scenario of Vrindavan, where Radharani and Shri Krishna do their rasleela and dance through the night. It is a magical segment from the 1969 film Kohinoor. Naushad Ali, one of the most popular composers in Hindi cinema, who popularized the use of classical music in Bollywood, composed this mind-blowing classical rendition. It has been used time and again for Kathak performances by renowned dancers.
Isharon Isharon Mein Dil Lene Wale (1964)
Movie: Kashmir Ki Kali
Singers: Mohammed Rafi, Asha Bhosle
Music: O. P Nayyar
Lyrics: S.H Bihari
The moment Shammi Kapoor heard of Rafi Sahab's demise, he said I have lost my voice forever. Shammi Kapoor and Sharmila Tagore look gorgeous in the valleys and forests of Kashmir as they dance around the trees and lip-sync to this song sung by the legendary Mohammed Rafi and Asha Bhosle. Rafi's contribution to Hindi cinema is unparalleled. He made these songs so popular that there is hardly any Indian who has not heard of these classic songs, irrespective of the generation that they belong to.
O.P Nayyar, an expert at Piano, Keyboard, Dholak and Drums composed this awesome piece of music. S. H Bihari, is a popular poet, singer and lyricist from Madhupur, whose songs were mostly recorded and used in Hindi movies, during the latter half of the 20th century. Bihari wrote down this cult song with a lot of love and patience.
Kaun Hai Jo Sapno Mein Aaya (1968)
Movie: Jhuk Gaya Aasman
Singers: Mohammed Rafi
Music: Shankar- Jaikishan
Lyrics: Anand Bakshi
Rajendra Kumar sings this mellifluous number for his beautiful lady love in the film. The lyrics by Anand Bakshi are set in a question format and ask who is the person who is all over my dreams and heart? Even the skies seem to bow down for his love. This song won all the recognition because of Mohammed Rafi's singing style, voice modulation, diction and the way he expressed the emotions in the song. Shankar- Jaikishan have built a beautiful world of dreams with their heartfelt composition. They took a good amount of time to compose it but the result was amazing. The picturesque hill station in the music video can make your heart go gaga as you go for a ride along the scenic valleys with Rajendra Kumar.
Kya Hua Tera Vaada (1977)
Movie: Hum Kisise Kum Naheen
Singers: Mohammed Rafi
Music: R.D Burman
Lyrics: Majrooh Sultanpuri
Did you know that Mohammed Rafi won the Filmfare best male playback singer award and the National film award for this super duper song? Look at Majrooh Sultanpuri's talent as a lyricist, he wrote lyrics from the point of view of a person who sings on the stage for his childhood sweetheart. He remembers his childhood and his youth. He thinks about how he and his sweetheart were inseparable and how all of a sudden, money and status have changed her and she ditched him for material possessions but he was wrong. It was the circumstances that separated them and on hearing this song, Kajal, his childhood sweetheart, becomes emotional. These compositions can not be heard in this decade. The guitar and violin are played beautifully. It is a gem from the '70s. R.D. Burman gave his sweat and tears to compose the music for this. Let us know what it is about this song sung in Rafi's magnetic voice that you like the most.
Maine Poocha Chand Se (1980)
Movie: Abdullah
Singers: Mohammed Rafi
Music: R.D Burman
Lyrics: Anand Bakshi
In this beautiful song written by Anand Bakshi Ji, the protagonist asks the moon whether it has ever seen someone as beautiful as his wife. The moon says no and the hero asks the same question to the flowers and gardens. Even they fail to compare her beauty. After that, he asks the same thing about the intoxicating wine and obviously, even the wine is not as exquisite and charming as his partner. The hero wonders whether any poem or any poet can describe her beauty, but discovers that all of them fail to capture her grace, charm, aura and dignity. 
 The 3-time Filmfare award winner, R.D Burman's special skill sets as a composer and his global influences in music helped him come up with this oh-so-soothing, romantic composition, but none other than our gem of a singer, Mohammed Rafi could have sung this song with so much perfection. It's as if he has put himself in the actor's shoes. Songs like this are etched in the pages of Bollywood music for eternity.
Concluding Words
Rafi's voice had an unbelievable range that composers discovered to their great advantage. His oeuvre included soothing classical songs such as "Madhuban mein radhika nache re" from Kohinoor and "O Duniya ke rakhwale" from Baiju Bawra. His ghazals like "Suhani raat dhal chuki" from Dulari and "Chaudhavin ka chand" starring Waheeda Rahman were fantastic. He also sang some mind-blowing patriotic songs like "Jahan daal par"  from Sikandar-e-azam, and light melodies like the sensational "Aaja aaja main hoon pyaar tera" in Teesri Manzil. In the year 1965, he was awarded the Padma Shri, one of the biggest civilian honors by the Indian government.
You can find out more about the A to Z of Mohammed Rafi songs from the Gaana Pehchaana blogs. Enjoy more of Rafi Sahab's amazing talents by playing several TMK games we have designed to pay tribute to him.  Try TMK227 – Mohd Rafi Sings for O.P. Nayyar for example, or TMK200 – Mohd Rafi All the Way!  So, stay tuned to our blogs and reviews section and install the app to enjoy the Teen Maar Khan, Bhagam Bhag, Aur Sunao, and Ansuna games.  You can also try out the live games feature. It's a great way to get together and enjoy at the office, at weddings, parties, celebrations etc.