Our legendary Chandni would have turned 57 this August. It was her birthday a few days back and it's been 3 years since she left us. We still miss her. We feel sad that we won't be able to see her on the big screen or enjoy any new songs starring her, but there are already heaps and heaps of Bollywood songs with everybody's favorite Sridevi dancing or acting in them.
Was Sridevi Born To Act?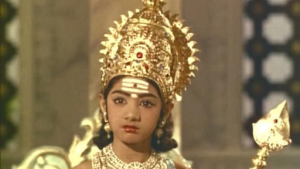 Source: https://bit.ly/2XtNAIc
Her journey as a star began when she was a little girl of 4. She first starred as Lord Murugan in a Tamil film and from then on her journey as an actress began.
She did quite a many South Indian movies as a child star before getting to play an adult role at the mere age of 10 and a half. She was a movie diva and a heartthrob in the South Indian cinema industry at the time when she got her first break in Bollywood with Solva Sawan. Solva Sawan was a flop, but 4 years later, her film Himmatwala alongside Jeetendra became one of the highest grossing Hindi Films of all time.
Some of the sweetest Hindi film songs and the biggest hits have Sridevi in them.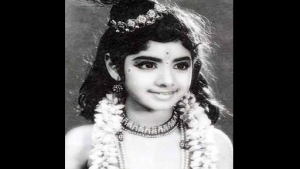 Source: https://bit.ly/37KsxTr
Let's discover a few rare facts and trivia about the most famous Sridevi songs in today's Gaana Pehchaana blog.
Taki O Taki (1983)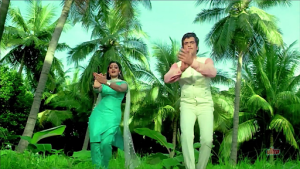 Source: https://bit.ly/3m3VYIw
Music: Bappi Lahiri
Lyrics: Indeevar
Singers: Asha Bhosle, Kishore Kumar
Movie: Himmatwala
Did you know that Taki O Taki and Himmatwala garnered such love and respect that there was a remake of the entire film as well as this melody?
Many think that the English cum Spanish song by DJ Snake has something to do with Sridevi's Taki Taki, but it is an entirely separate song. People loved watching her jump and dance with her jumping jack partner Jeetendra.
Her designer churidar suits in satin silk started a trend. Hats off to Bappi Lahiri for so easily pulling off the dancing music. Indeevar penned down the perfect lyrics with Asha Bhosle and Kishore Kumar doing complete justice to the singing.
Nainon Mein Sapna (1983)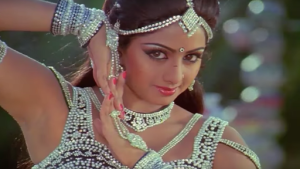 Source: https://bit.ly/3hBk3nD
Music: Bappi Lahiri
Lyrics: Indeevar, Sameer Anjaan
Singers: Lata Mangeshkar, Kishore Kumar
Movie: Himmatwala
Nainon Mein Sapna is Sridevi's most iconic dance song from her second Hindi movie. She changed the trends in Bollywood dancing with this song.
  The rhythmic dance beats in the music by Bappi Da will make your heart flutter and your mind sing. Sridevi can be seen dressed as a dancing serpent girl. Indeevar and Sameer, lyricist Anjaan's son penned down the most beautiful, heart touching lyrics that can set your soul on a graceful, dance journey.
Aaj Abhi Yahi (1984)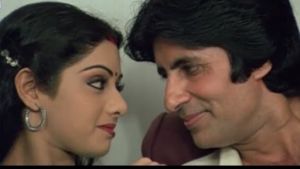 Source: https://bit.ly/3xJmlpn
Music: Laxmikant- Pyarelal
Lyrics: Anand Bakshi
Singers: Kishore Kumar, Asha Bhosle
Movie: Inquilaab
The movie Inquilaab was an above average earner but this melody is one of the most memorable Sridevi and Amitabh Bachchan melodies ever because the duo was not that popular.
Lakshmi Kant Pyarelal and Anand Bakshi Ji created evergreen songs for Sridevi and obviously Kishore Kumar, Asha Bhosle were the perfect match for Amitabh Bachchan as well as Sridevi's fabulous characters.
Kate Nahi Kat Te (1987)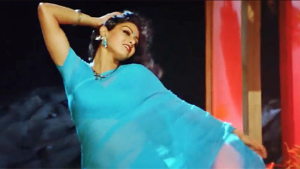 Source: https://bit.ly/3fZpoUo
Music: Laxmikant- Pyarelal
Lyrics: Javed Akhtar
Singers: Kishore Kumar, Alisha Chinoy
Movie: Mr. India
After Mr. India people began calling Sridevi the encyclopedia of Acting. Mr. India was a trend setter, being the very first Bollywood Science fiction film.
Sridevi was too good in this song. She added the oomph factor without making it look vulgar. The film was screened at the biggest film festivals and the music including Kate Nahi Kat Te became a hit in the Bollywood Music fraternity because of all the hard work put in by Laxmikant- Pyarelal, Javed Akhtar, Kishore Kumar, Alisha Chinoy, Anil Kapoor and Sridevi.
Oongli Mein Anguthi (1988)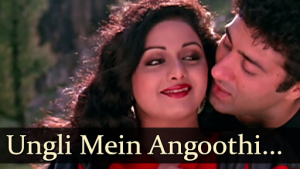 Source: https://bit.ly/3m4L3P0
Music: Laxmikant Pyarelal
Lyrics: Anand Bakshi
Singers: Lata Mangeshkar, Mohammed Aziz
Movie: Ram Avtar
This track is not one of the best Sridevi tracks, but it is sure to make you reminisce about legendary Sridevi's immense talent. There are around 3 to 4 versions of this song in the film and it was composed, written and sung according to the situation in the storyline. Sunny Deol and Sridevi were crowned the best pair in Bollywood at that time, because of their mind blowing performance in this.
Chandni O Meri Chandni (1989)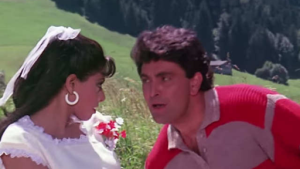 Source: https://bit.ly/2XiY2C8
Music: Shiv-Hari
Lyrics: Anand Bakshi
Singers: Sridevi, Jolly Mukherjee
Movie: Chandni
Chandni was a romantic musical. This massive blockbuster turned into an even more special film because Sridevi lent her divine voice to sing it.
The composers of this melody, Shiv-Hari are actually Shivkumar Sharma and Hariprasad Chaurasia, the widely acclaimed music directors as well as masters of santoor and flute. Shiv and Hari are giants in the world of Hindustani classical music.
Anand Bakshi had already flourished as a lyricist at this point of time. It is still ranked amongst the top 5 songs of Yash Chopra. In fact, Chopra was said to have had a Sridevi hangover and made many of his heroines from other films look similar to Sridevi from Chandni, but no other heroine could pull off the look as Sridevi in her whites from Chandni.
Na Jaane Kahan Se Aayi Hai (1989)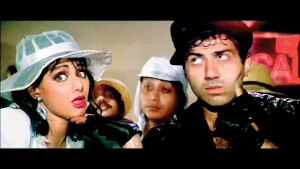 Source: https://bit.ly/3gmhpRJ
Music: Laxmikant, Pyarelal
Lyrics: Anand Bakshi
Singers: Kavita Krishnamuryhy, Amit Kumar
Movie: Chaalbaaz
Na Jaane Kahan Se Aayi was a sensational hit that broke all records. Times of India stated it to be a "Sridevi Classic, where she just looked wow with her chirpy expressions and rain drops patting on her cheeks". Almost all songs from this movie became successful, but no song or performance can be compared to this one.
Sridevi's dungaree dress was not in trend during that time, but they have become a fashion statement now.
Sunny Deol and Rajnikanth's talent became dull in presence of Sridevi's dazzling acting and dancing. Her expressions and antics widened her fanbase all over the world.
Morni Baga Ma Bole (1991)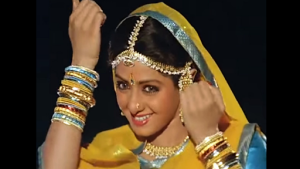 Source: https://bit.ly/3m4J3pF
Music: Shiv-Hari
Lyrics: Anand Bakshi
Singers: Lata Mangeshkar, Ila Arun
Movie: Lamhe
Lamhe was said to be way ahead of its time and many thought that it would have been more successful if released now. Shivkumar Sharma and Hariprasad Chaurasia made many Sridevi numbers iconic with their ultimate compositions and Anand Bakshi was always there to top it off with the creamy lyrics.
Ila Arun and Lata Mangeshkar sang this together. Lata Ji sang Sridevi's part and Ila Arun slayed the rest of it. Even Ila ji's dancing had that traditional Rajasthani flair and obviously Stidevi's dancing was absolutely amazing beyond words.
Sridevi remarked that working in Lamhe was the most challenging experience of her professional life.
Navrai Majhi (2012)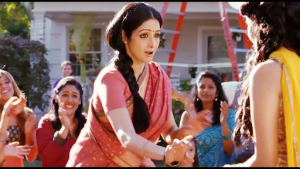 Source: https://bit.ly/3jRGq8d
Music: Amit Trivedi
Lyrics: Swanand Kirkire
Singers: Sunidhi Chauhan, Swanand Kirkire, Neelambari Kirkire, Natalie Di Luccio
Movie: English Vinglish
Sridevi made a comeback after 15 long years with English Vinglish. Her character resembled director Gauri Shinde's mother in real life.
This song is a happy party track with the entire family dancing to it. The marathi lyrics by Swanand Kirkire sounds sugary sweet. Swanand is already an expert at penning down lyrics and this one was more special because he had to create something in his own mother tongue. He also contributed his voice to sing along with Sunidhi Chauhan and the other singers.
The genre of this song was not Sunidhi's comfort genre but she did a great job along with Swanand, Neelambari and Natalie.
Amit Trivedi as usual did a wonderful job with the music and Sridevi rocked her role while playing a character of her age.
TMK- 285- A Game On The Goddess Of Dancing & Music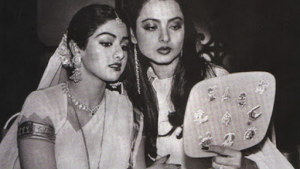 Source: https://bit.ly/37GOR0j
Sridevi dedicated her entire childhood and growing up years to acting, so she had taken a 15 year long break from it and then again returned to acting after a long gap in 2012. Her journey was always full of ups and downs.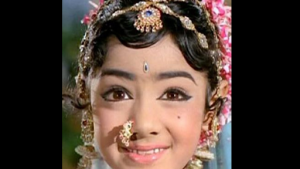 Source: https://bit.ly/37KsGWZ
We decided to pay tribute to her body of work with the help of a "Teen Maar Khan" game called TMK 285- We Miss You Sridevi!!!! Select the game to start playing it. Carefully listen to the song clips before you make the guesses. Remember that more than 3 wrong guesses can get you disqualified. Every correct guess will make you win points and the points will keep getting added to your kitty. Install the app to play the game!