Recently, we got to witness lots of debates revolving around remixes in Bollywood. What is it about remixes that makes people love or hate them? Are they good or bad? 
Why an increasing number of remixes in Bollywood Music albums has left people wondering about the dearth of creativity in the Music industry?
Today, Gaana Pehchaana is going to reveal everything about remixes.
How Remixes Attract People?
2010's were considered to be the decade of remixes in Bollywood. Obviously, these songs became popular because people heard them and loved them. Until and unless people loved them, film directors, producers and labels would not think about recreating them. The idea of creating remixes started in Bollywood and has become normal for all regional Indian cinema in different languages.
The Struggle Between Remixes, Composers & Lyricists
Music composers and singers feel that remixes kill creativity and don't allow the creative juices to flow freely.
Film directors, producers and labels are inclined towards remixes because they have the capacity to become overnight hits and in turn produce a lot of money. Though, when it comes to the music composers, usually the lazy ones are said to opt for remixes, but most of them don't have their say in it. They are compelled to create them, unless they remain adamant.
Hook Lines- The Life Lines Of Bollywood Music
Another thing about hit Bollywood numbers including remixes are the hook lines. The popularity of a song is believed to depend on the one or two catchy lines that linger on in the minds of listeners. Even composers and lyricists are asked to focus on the hook lines instead of the antara, mukhra or any other part. So, we have also mentioned the hook lines of the remixes that we'll be discussing.
In this week's Gaana Pehchaana blog, Let's know more about a few of the most popular Bollywood remixes of all time.
The Humma Song (1995, 2017)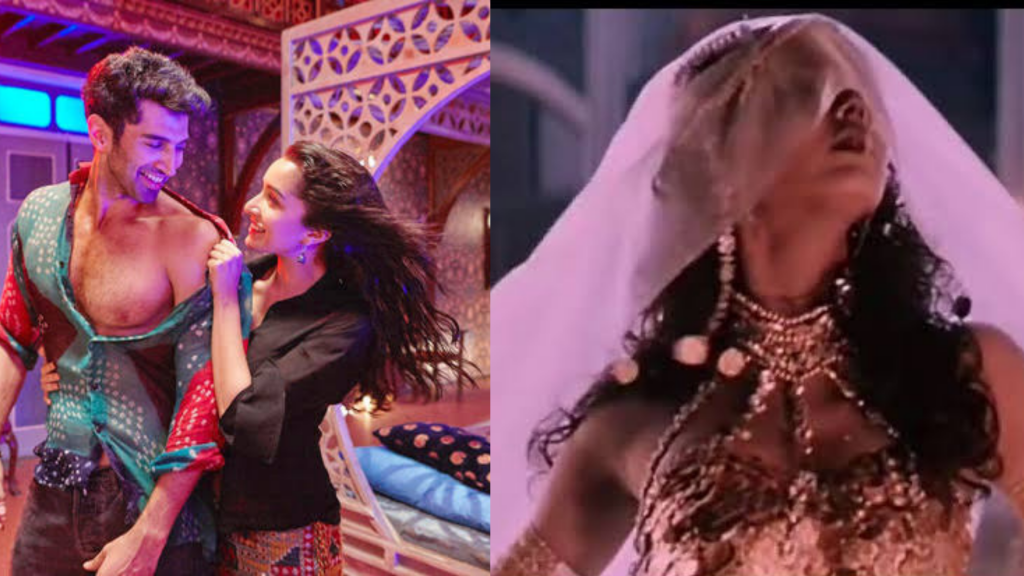 Sources: https://bit.ly/3clA25X, https://bit.ly/3gc8FMV
Music: AR Rahman, Badshah, Tanishk Bagchi
Lyrics: Mehboob
Singers: Jubin Nautiyal, Badshah, Shashaa Tirupati
Hook Line: Humma humma…
Humma humma humma
Hey hamma hamma..
Humma humma humma
Movie: Bombay, Ok Jaanu
The original song and movie were in Tamil as well as Hindi. The revamped version is only in Hindi and sounds brilliant. Middle Eastern tunes along with the rhythms of the Saxophone bring about the charm in the melody.
We absolutely love watching Shraddha and Aditya dancing to the song in a multicolored, hallucinating room, in which they have most probably been locked together. What's better than celebrating their good time with this mind-blowing composition sung in a new style.
The soundtrack for the original film was one of the best selling albums in Bollywood that crossed over 15 million units. The remix has been showered with a lot of love and respect as well.
Lift Teri Band Hai (1997, 2017)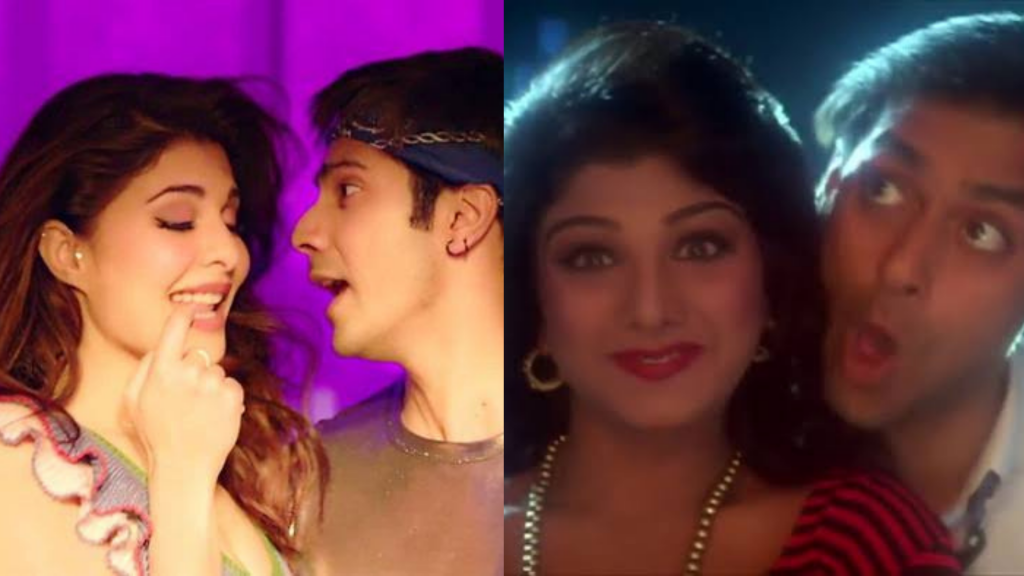 Source: https://bit.ly/3ijZ4X2
Music: Sandeep Shirodkar ft Anu Malik
Lyrics: Dev Kohli
Singer: Anu Malik and Neha Kakkar
Hook Line: Aaja aaja, aaja band baja leke aaja,
Teri yaad sataaye doolhe raja ab to aaja
Movie: Judwaa, Judwaa 2
Phenomenal lyrics brought to life through Dev Kohli's mastermind. "Oonchi Hai Building" is sure to take you on a roller coaster ride. Whether it be the Salman, Rambha, Karishma pair or the Varun, Tapsee, Jacqueline pair, both the versions are great. 
Sandeep Shirodkar did not make any massive changes to Anu Malik's composition. The change is all about the minor alterations in technology and trends, which gives the new song a different appearance. It doesn't matter how crazy or offbeat the song sounds, it can make anybody dance to it's beats like a crazy buffoon.
Aankh Marey (1996, 2018)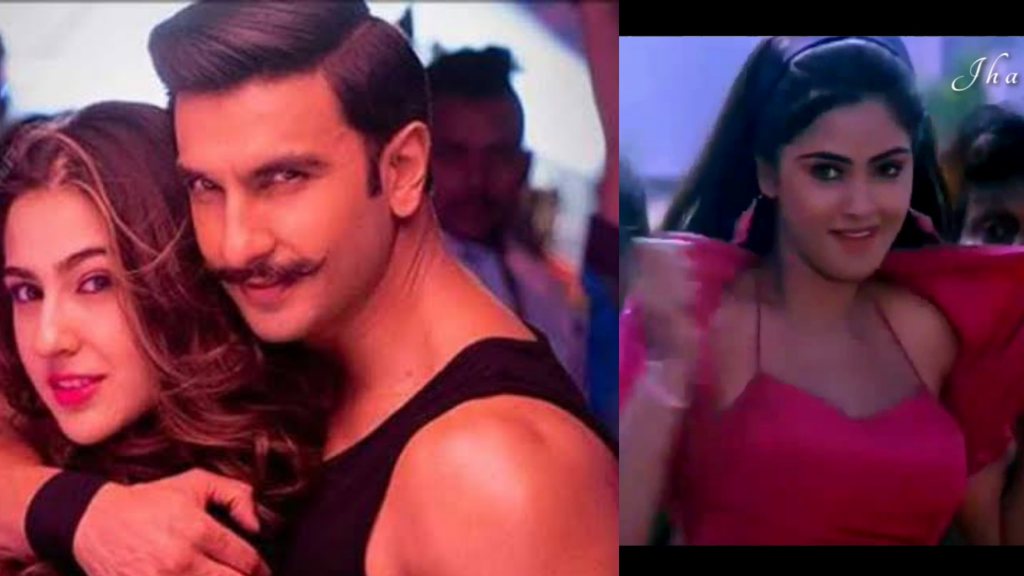 Sources: https://bit.ly/3uXgnQe, https://bit.ly/3x3IiPV
Music: Tanishk Bagchi
Lyrics: Shabbir Ahmed
Singers: Neha Kakkar, Mika Singh & Kumar Sanu
Hook Line: Oh ladki aankh marey, aankh maare, Oh ladki aankh marey, aankh marey
Movie: Tere Mere Sapne, Simmba
These days Tanishk Bagchi is the best composer for making remixes. He agrees to the director and producer's choice of having a remix and we find that the maximum remixes have been made by him. To be honest, this song was a great attempt.
The best part was Arshad Warsi making a cameo appearance in a section sung by Kumar Sanu. We literally enjoyed that bit as Arshad was also there in the  original 1996 song from Tere Mere Sapne sung by Sanu. Popular, award winning lyricist Shabbir Ahmed got lucky that a song written by him could be heard everywhere once again, after a decade or more.
Even the song video became a smashing hit as we danced along with Sara and Ranveer who gave their best performances under Rohit Shetty's fabulous direction.
Maine Tujhko Dekha (1997, 2018)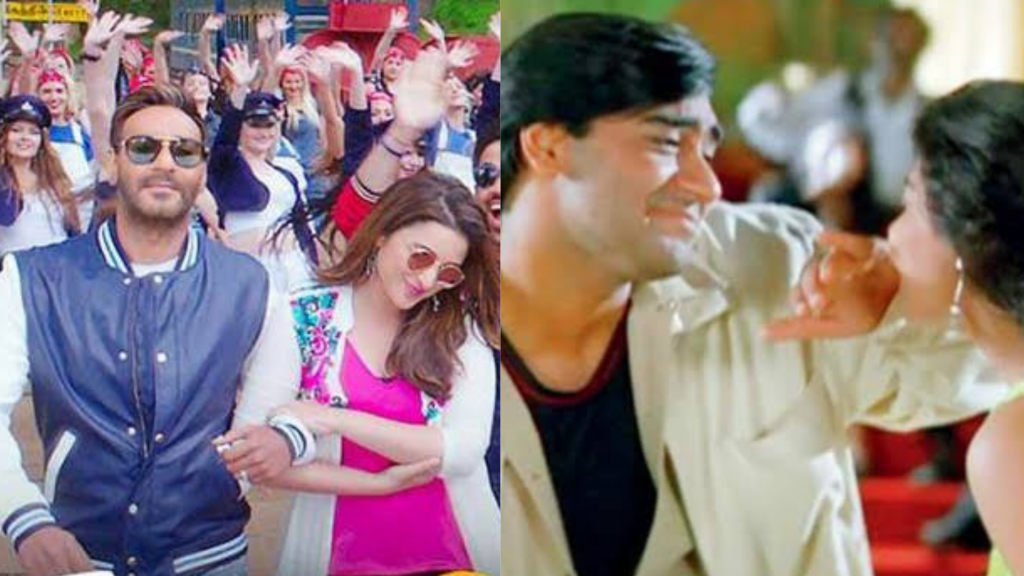 Sources: https://bit.ly/3ilbKgn, https://bit.ly/3pnFzhM
Music: Amaal Mallik
Lyrics: Kumaar
Singers: Neeraj Shridhar, Sukriti Kakar
Hook Line: Neend churayi meri, kisne oh sanam?
Tune… tune…
O.. Chain churaya tera, kisne oh sanam?
Tune… tune… o o o…
Movie: Ishq, Golmaal Again
Bollywood music lovers just can't get over this number. Even recently, we had the Neend Churai Meri version from Ishq recorded in our brains when the new Maine Tujhko Dekha version came out. The best part was that Ajay Devgan came back with his supersonic performance in a modern avatar. This time, it was opposite Parineeti Chopra instead of Kajol. Amaal Mallik rehashed the Anu Malik version very carefully.
The original lyrics by Rahat Indori had a lot more rhyme and rhythm than this one. Neeraj Shridhar and Sukriti Kakkar took up the biggest responsibility. They sang the remix of a song originally sung by the likes of musical geniuses like Udit Narayan, Alka Yagnik, Kumar Sanu and Kavita Krishnamurthy.
Ek Do Teen (1988, 2018)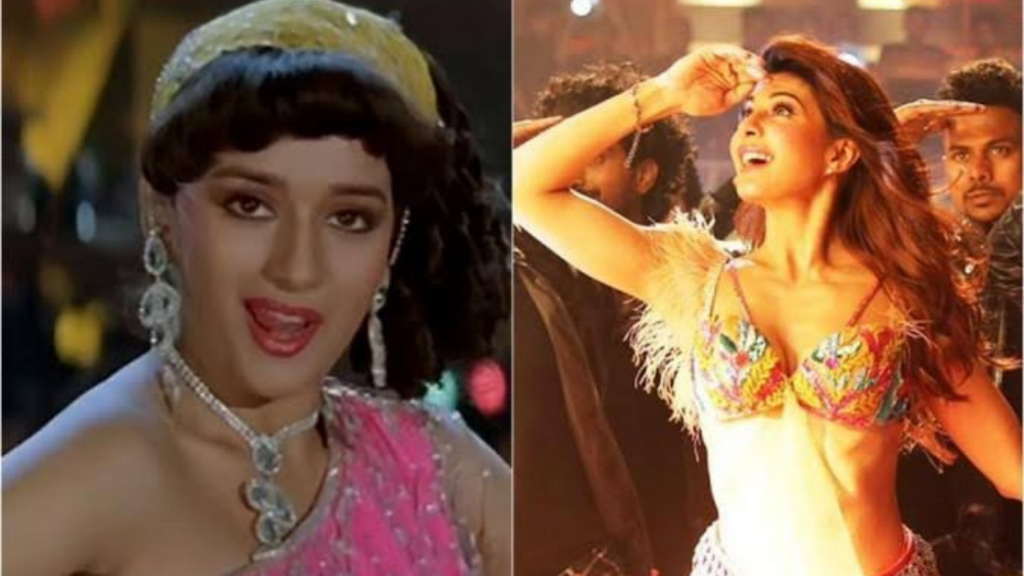 Source: https://bit.ly/3clta8I
Music: Sandeep Shirodkar
Lyrics: Javed Akhtar
Singer: Palak Mucchal
Hook Line: Ek do teen chaar paanch chhe saat aath nau do gyarah barah terah x (2)
Movie: Tezaab, Baaghi 2
"Ek Do Teen" was a massive sensation. It was so well received by the Indian audience that after Tezaab's release every dance lover could be seen matching their steps to this song. The song became an emotion and Saroj Khan won a filmfare for her brilliant choreography.
Even Madhuri's life and career changed after it. Every filmmaker and producer wanted to get a dance number done by Madhuri for their film. Senior actresses were put behind her in the dance sequences, as filmmakers believed that nobody could do it better than her.
Javed Akhtar's lyrics have not been tarnished in the remix. Mr Akhtar said that when Lakshmikant Pyarelal first narrated the tune, they had used dummy numbers, but he felt that he could keep the numbers in the lyrics, so he did that and it was a hit. Palak Mucchal deserves accolades for singing the original Alka Yagnik version so beautifully that nobody could make out the difference.
Dus Bahane 2.0 (2005, 2020)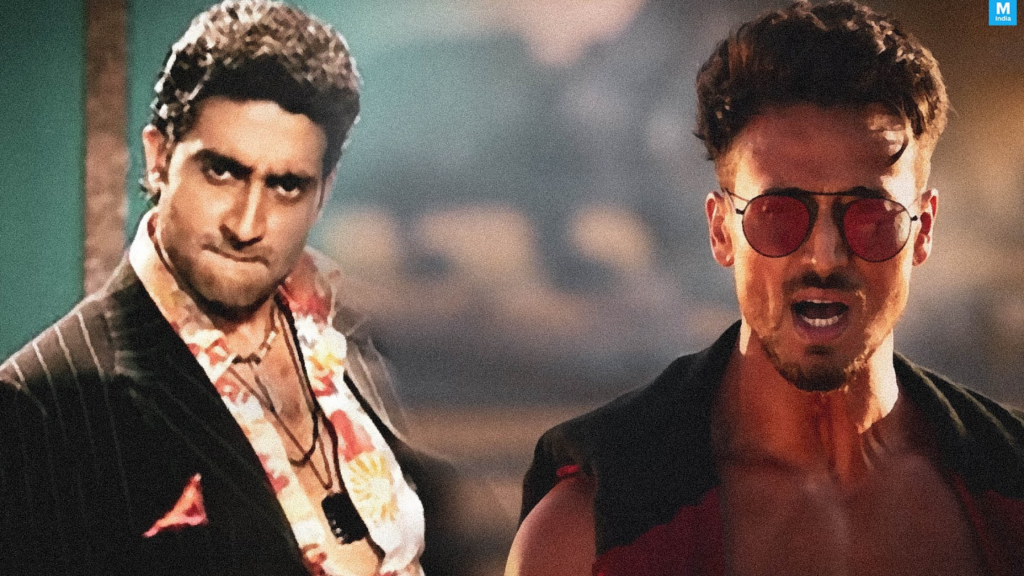 Source: https://bit.ly/2T3Ovgk
Music: Vishal & Shekhar
Lyrics: Panchhi
Singers: KK, Shaan, Tulsi
Hook Line: Dus bahane karke le gaye dil, le gaye dil
Movie: Dus, Baaghi 3
Vishal-Shekar were asked to recreate this big hit of theirs keeping in mind the Bollywood frenzy audience who went crazy over the original "Dus Bahane Karke Le Gaye Dil".
The fast beats and peppy music that make you sway your body the moment you hear it has something iconic about it. KK and Shaan returned to sing it along with Tulsi Kumar after so many years. The new version starring Tiger and Shraddha will make your adrenaline rush faster than ever. If you are hosting a party or get-together of some kind, you can always keep this number on repeat to create an electrifying ambience.
Muqabla (1994, 2020)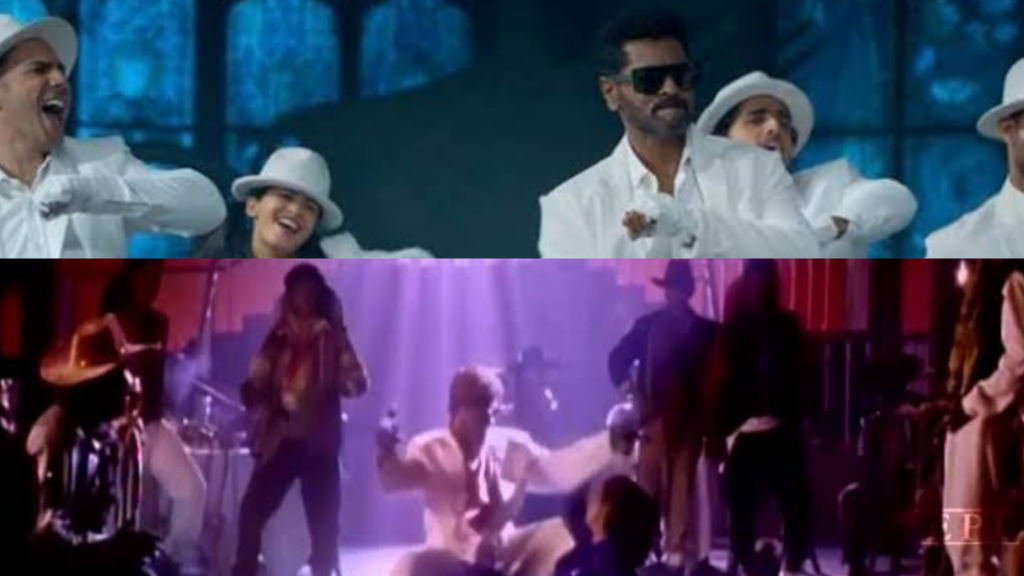 Sources: https://bit.ly/2T0Ct7t, https://bit.ly/2TGdFlj
Music: Tanishk Bagchi
Lyrics: Shabbir Ahmed, Tanishk Bagchi
Singers: Yash Narvekar, Parampara
Hook Line: Munh Kaala, Muqabla
Laila, Oh Ho Laila
Mukabla Subhan Allah Laila
Oh Ho Laila
Movie: Humse Hai Muqabala, Street Dancer 3D
We can define the new Muqabla as a fresh version of a cult number that is equally popular and loved by the audience as the old one.
Nothing can beat the original A.R Rahman composition for the Tamil film Kadhalan dubbed in Hindi as Humse Hai Muqabla. The original lyrics by P.K Mishra were tweaked a bit to suit the situation of the new song. Even after so many years Prabhudeva has set the stage on fire with his fantastic dance moves. Hats off to Remo D Souza for visualizing the entire theme and bringing the dancing hero back to the pavilion.
Copyright law in India considers composers who create music to be the original owner of a song. It does not consider a singer as the owner and in case you are creating a remix, you need to take permission from the original composer and he or she has complete rights to listen to it, get changes made and decide whether you can release your remix or not.
Gaana Pehchaana- Every Hindi Film Music Fan's Best Friend!
To keep enjoying these blogs every week, install the Gaana Pehchaana App on Android or iOS. You can also enjoy entertaining musical games on the app and participate in live gaming events. The app will turn out to be your best friend if you are a big Hindi Film Music fan. Hurry up and get it installed on your phones.