A few days back, we heard that Vijay Patil or Laxman of the popular Raam-Laxman composer duo has passed away at the age of 78, due to a sudden cardiac arrest.
We were disheartened, and the entire Bollywood fraternity mourned the loss of a musical gem who continued to compose music even after the demise of his partner Surendra Hindre.
Raam-laxman's musical journey began with Vijay's orchestral venture. He was an expert at playing the accordion and named his orchestra "Amar", after his son's name. 
Who Brought Raam and Laxman Together?
Popular comedian, Dada Kondke was so impressed by his orchestra, that he asked him to make music for the popular 1975 Marathi comedy, "Pandu Hawaldar".
He composed it along with his friend Raam, and it became a super-duper hit. This established their lifelong relationship with Kondke, who lovingly named the duo Raam-Laxman.
A New TMK Game Celebrating The Different Shades Of Love, Family And Friendship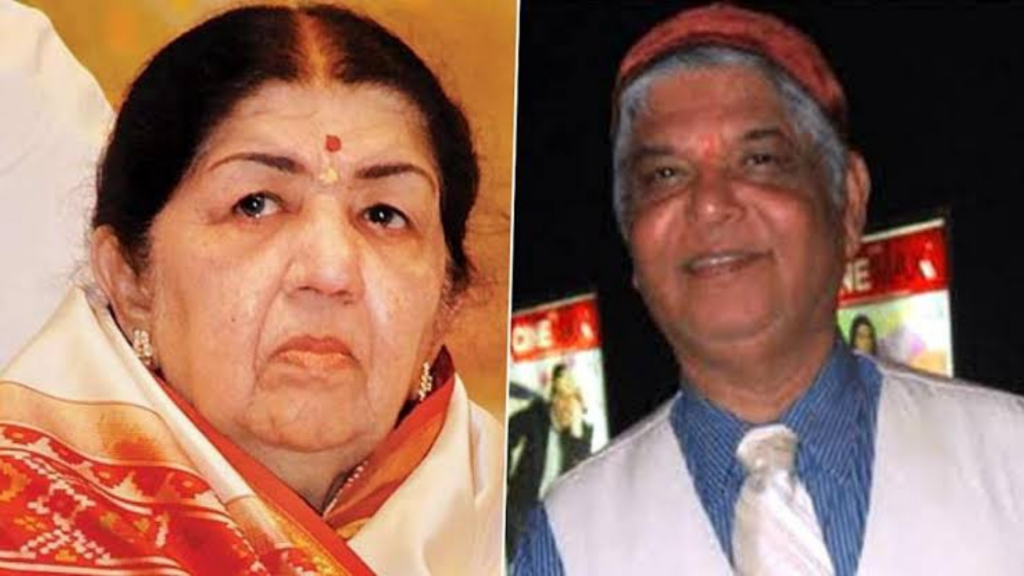 Source: https://cutt.ly/Pnsq3e5
A New Teen Maar Khan Game "R.I.P. Ram-Laxman Jodi ", has been added to the Gaana Pehchaana app. It's a tribute to Ram-Laxman's magic with Music. Many of us have spent over 3 decades listening to their music without knowing who composed it.
It's time to honour them through their songs which are mostly family anthems, celebrate the process of falling in love, celebrate friendships, celebrate the Indian values of adults being part of every decision and bright, colourful Indian festivities.
Install the app on your Android or iOS device to enjoy the game.
Biggest Musical Hits Of Our Generation
The duo created music for the biggest blockbuster hits like Maine Pyaar Kiya, Patthar Ke Phool, Hum Saath Saath Hain and Hum Aapke Hain Koun.
Raam-Laxman's music is always fresh and never fails to strike a chord with the people, even after so many decades.
What is it about their compositions that make them so special for the actors, singers and music lovers till today? Let's find out in today's Gaana Pehchaana blog!!
Sultana, Sultana Mera Naam Hain Sultana (1979)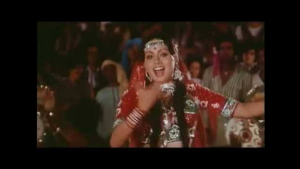 Source: https://cutt.ly/AnsyuXW
Music: Raam- Laxman
Lyrics: Ravindra Rawal
Singer: Usha Mangeshkar
Movie: Taraana
Taraana left a long-lasting impression on Bollywood lovers because of its music. This song sounds like something straight out of an Arabian Nights tale. The tune also has nomadic undertones. Raam-Laxman or Vijay Patil Ji considered Usha Mangeshkar to be his favourite singer. Her voice texture and singing style have a different kind of beauty. Ravindra Rawal has painted a beautiful story about a nomad girl with his soul-stirring lyrics. Watch the video to enjoy the song.
Didi Tera Devar Deewana (1989)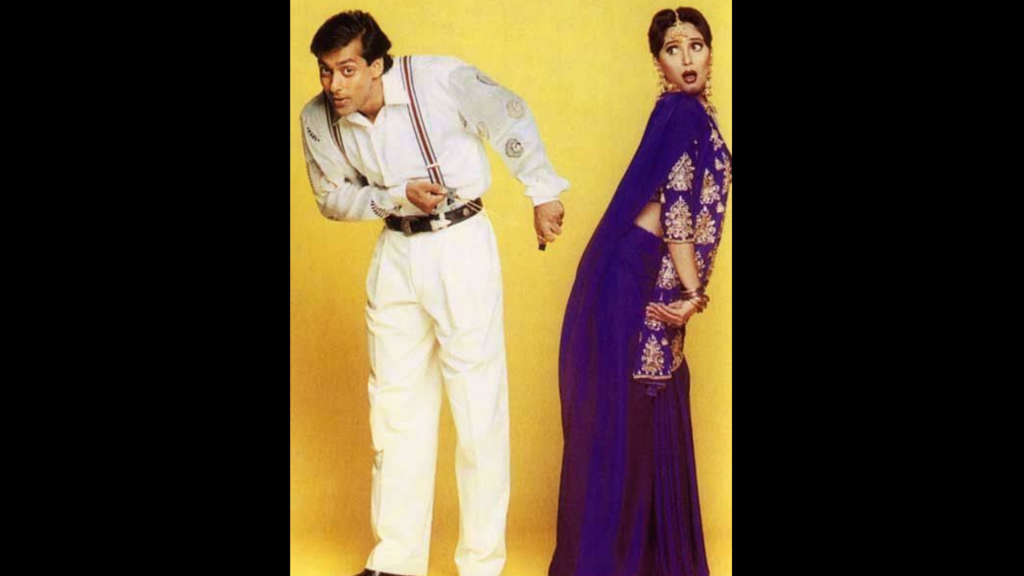 Source: https://cutt.ly/snsyaG1
Music: Raam Laxman
Lyrics: Dev Kohli
Singers: Lata Mangeshkar, S P Balasubrahmanyam
Movie: Hum Aapke Hain Koun
Another family dhamaka number composed by Raam-Laxman and sung by Lata Mangeshkar, SP Balasubramanyam.
"Didi Tera Devar Deewana" is a song that remains at the tip of every Indian's tongue. The songs and the film were so well received that Hum Aapke Hain Koun turned out to be the highest-grossing Indian film of the 1990s and the maximum earning Indian film at that time.
This track was inspired by an Ustad Nusrat Fateh Ali Khan song called Saare Nabian. The song remained at the top of the charts for more than a year.
Blockbuster India described the movie as the "Biggest Blockbuster of the Modern Era". Even the Telugu version called Premalayam ran for more than 200 days. The track is all about a big family party where the boys and the girls get into different groups to have fun and tease each other.
Dil Deewana (1989)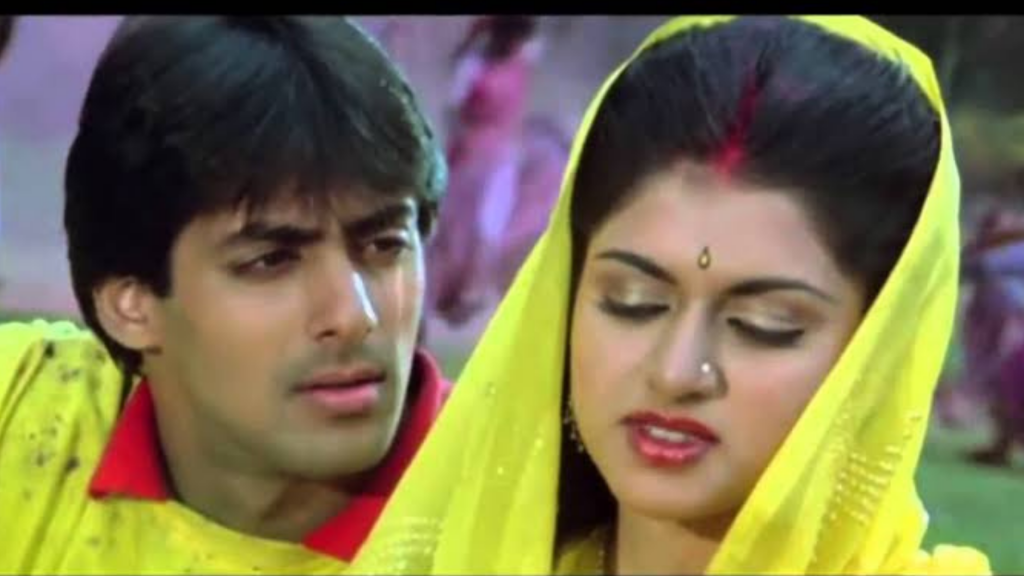 Source: https://cutt.ly/cnsyb3l
Music: Raam-Laxman
Lyrics: Dev Kohli
Singer: Lata Mangeshkar
Movie: Maine Pyar Kiya
Ah, what a song! This came along in Salman Khan, Bhagyashree and Sooraj Barjatya's life when they were still in the struggling phase and turned them into the most sought after stars. Raam-Laxman's super successful compositions played the biggest role in helping Sooraj Barjatya turn the movie into a massive hit.
These movies would stay in the theatres for more than 150 weeks, which is unbelievable now. It was a big break for Dev Kohli after his first film and Lata Mangeshkar rocked with her singing.
Sun Beliya Shukriya Meherbani (1991)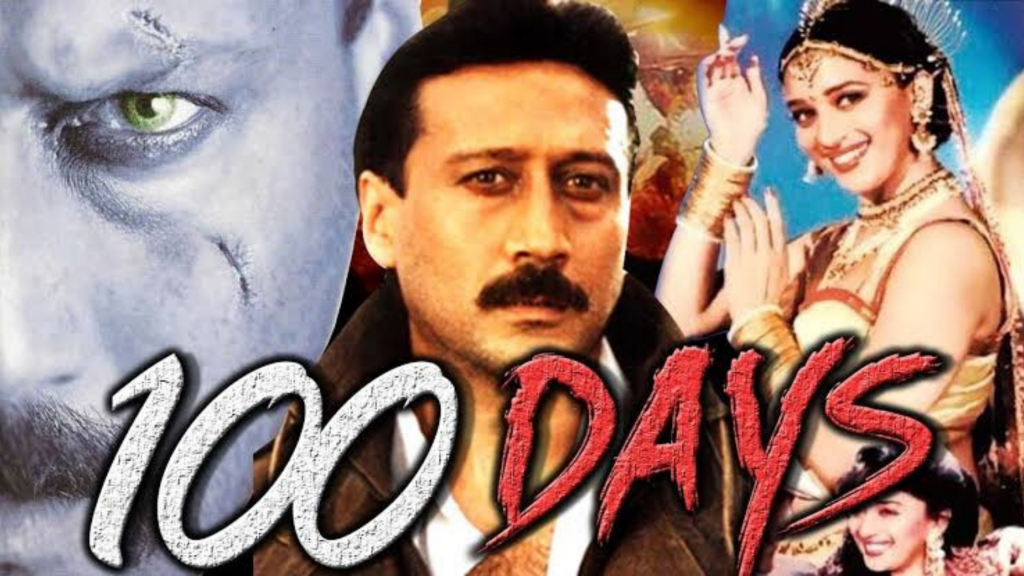 Source: https://cutt.ly/YnsyQsW
Music: Raam-Laxman
Lyrics: Dilip Tahir
Singer: S.P Balasubramaniam, Lata Mangeshkar
Movie: 100 Days
Many people have heard this number again and again but they might not be aware of who wrote it, composed it or sang it. Lata Mangeshkar and S.P Balasubramaniam did
complete justice to the relatable music by Raam-Lakshman.
Jackie Shroff and Madhuri Dixit's chemistry took a different turn along with this beautiful number in the thrilling supernatural cinema. The combination of stringed instruments, wind instruments, tabla and all create a versatile rhythm that you won't be able to stop listening to.
Pehla Pehla Pyar Hai (1994)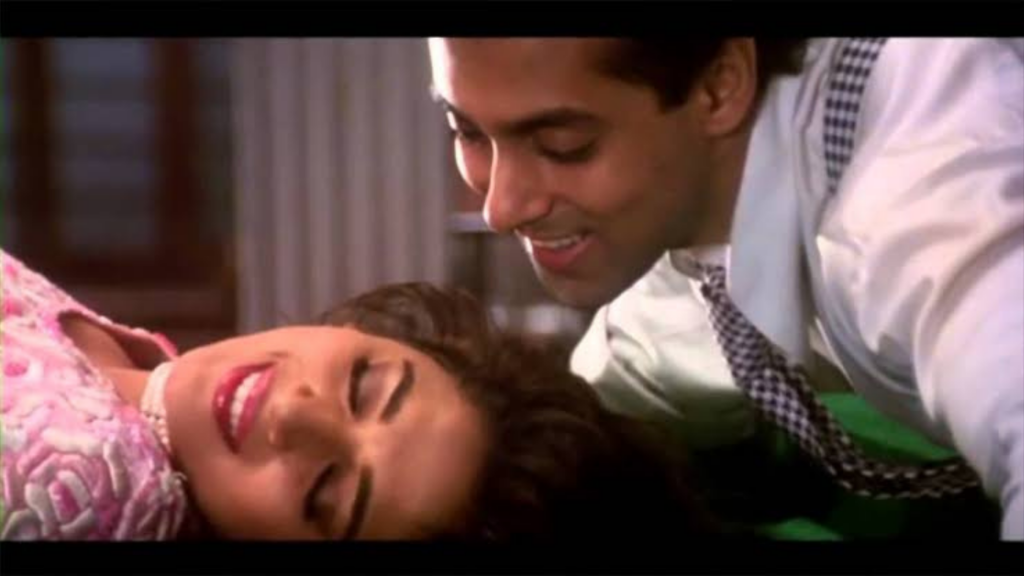 Source: https://cutt.ly/tnsyERT
Music: Raam-Laxman
Lyrics: Dev Kohli
Singer: S.P Balasubramaniam
Movie: Hum Aapke Hain Koun
"Pehla Pehla Pyar Hai" always has our heart with it. It's one of the most well-loved songs of the 21st century. This song was a favourite wedding number. The songs and the games from Hum Aapke Hain Koun were so well received by the Indian audience that no wedding would be complete without them. Lata Mangeshkar sang 11 of the songs out of 15.
The winner of 5 Filmfare awards, Hum Aapke Hain Koun became a part of our being with amazing melodies like Pehla Pehla Pyar written beautifully by Dehradun based Dev Kohli, composed by the most talented Raam-Laxman and sung by S.P Balasubramaniam.
Hum Saath Saath Hain (1999)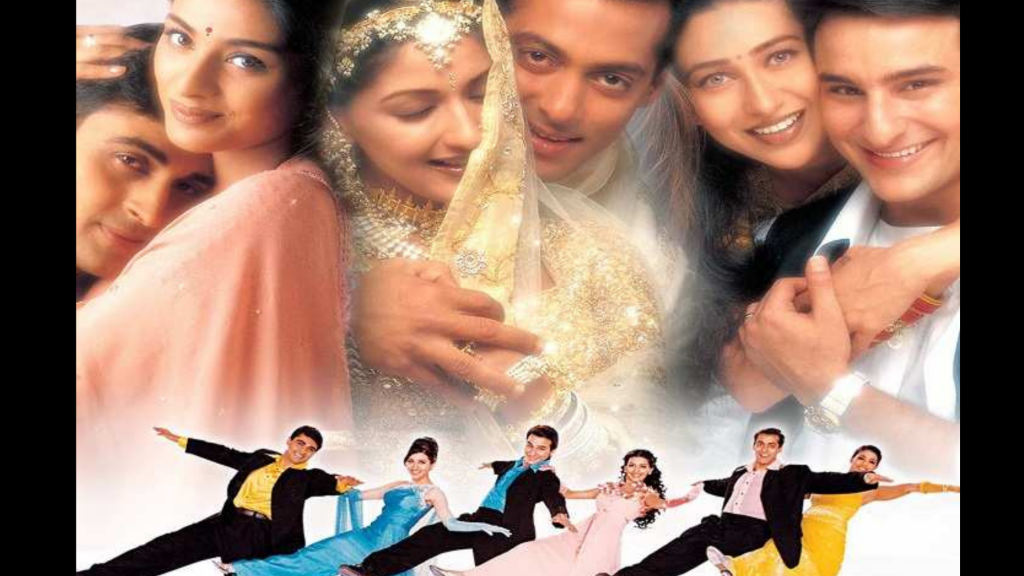 Source: https://cutt.ly/9nsyP0F
Music: Raam Laxman
Lyrics: Dev Kohli
Singer: Kavita Krishnamurthy, Kumar Sanu, Hariharan, Alka Yagnik, Udit Narayan, Anuradha Paudwal
Movie: Hum Saath Saath Hain
Raam-Laxman has always been grateful to Tarachand Barjatya for giving them the scope to shine in Hindi films. Laxman or Vijay Patil says that Rajshri Banner brought all the luck in their lives. Rajshri movies are completely about family, love and laughter without any villains or vamps. Sooraj Barjatya claims to make his films based on the values that he has grown up with or seen around him in his Marwari family.
Kavita Krishnamurthy, Kumar Sanu, Hariharan, Alka Yagnik, Udit Narayan and Anuradha Paudwal make the Mohnish-Tabu, Salman-Sonali and Saif-Karishma pair shine on screen with their spectacular matching attires. We just can't get over this title track from our childhood even after so many years.
Maiyya Yashoda (1999)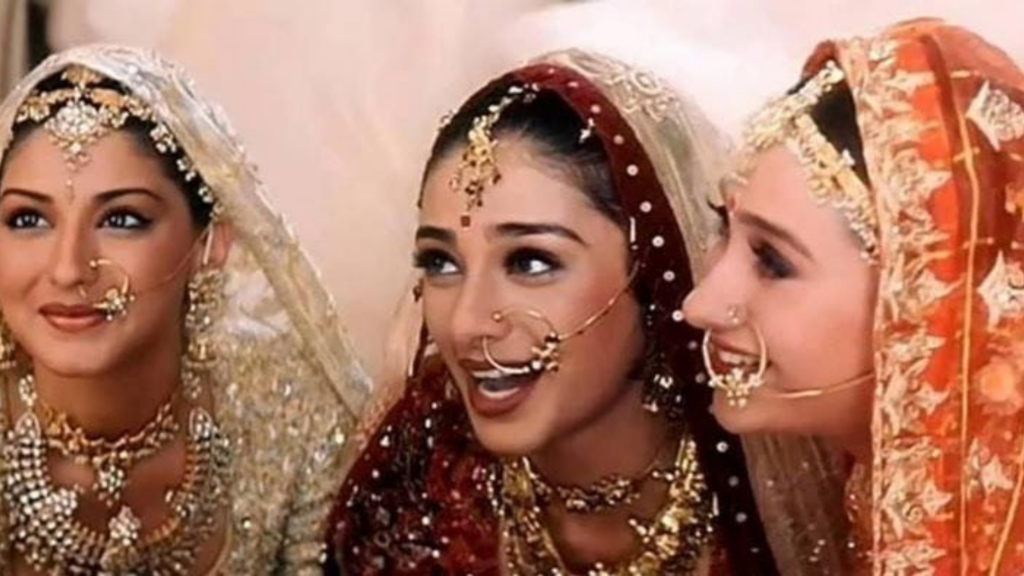 Source: https://cutt.ly/ynsyGU9
Music: Raam-Laxman
Lyrics: Kiran R
Singers: Alka Yagnik, Anuradha Paudwal
Movie: Hum Saath Saath Hain
Maiyya Yashoda is a priceless gem from the end of the 20th century composed by Raam-Laxman. These were the last of the biggest hits before the 21st century began and the meaning of hit music changed altogether.
Anuradha Paudwal was already the guru of devotional music and with the help of Alka Yagnik, she sang this memorable melody penned down by Kiran R which still makes us nostalgic and reminds us of those old days when family gatherings had a different flavour.
Karishma Kapoor, Sonali Bendre and Tabu have been picturised as Radha. Saif Ali Khan, Salman Khan and Mohnish Bahl are the naughty Krishna's, whereas Reema Lagoo is shown as Maiyya Yashoda.
Ye To Sach Hai Ki Bhagwan Hain (1999)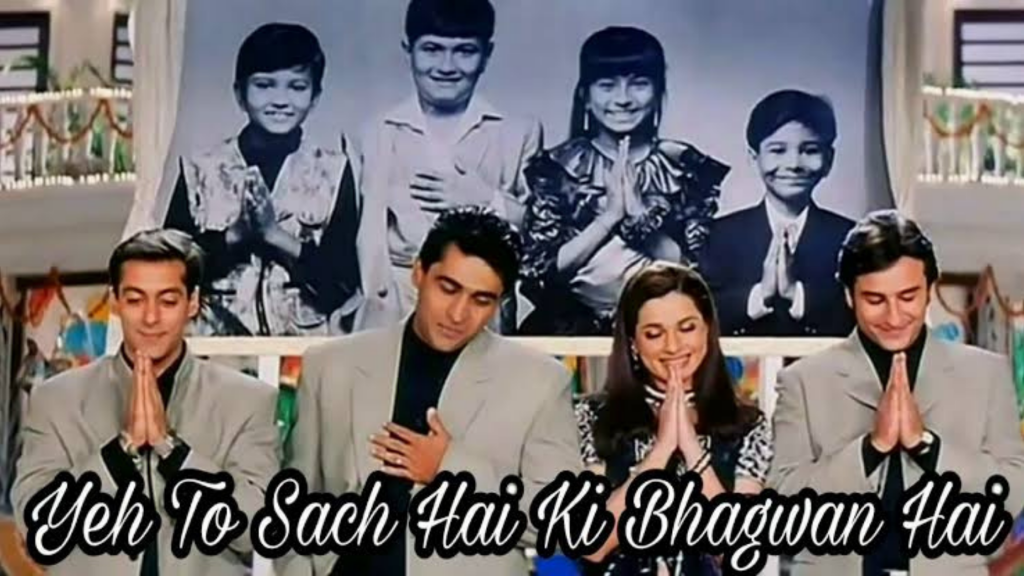 Source: https://cutt.ly/YnsyLBL
Music: Raam-Laxman
Lyrics: Ravindra Rawal
Singers: Hariharan, Pratima Rao, Ghanshyam Vaswani, Santosh Tiwari, Ravinder Rawal
Movie: Hum Saath Saath Hain
All songs from Hum Saath Saath Hain were composed by Raam-Laxman and surprisingly the audience showered a lot of love and respect on each of the songs. Every song is a gem on its own. A different set of instruments have been used for each of them.
"Ye To Sach Hai Ki Bhagwan Hain" is a group song sung by many different artists. It is all about God coming into our lives in the form of parents. The family set-up for the song is a typical Sooraj Barjatya one.
What Raam-Laxman's Dhamakedaar Music Means To Bollywood Music Lovers?
Raam-Lakshman composed songs for films that provided the most wholesome entertainment. The Basuri and Accordion duo made music from their heart that listeners could easily connect to. Even though Raam or Surendra of the duo could not live to watch the success of Agent Vinod released in 1977, Laxman did not want to stop making music or change the name of their duo even after his partner's demise. His contribution to Music has been engraved on the golden pages of Bollywood forever. Whatever he made left a lasting impact and is here to stay.
An Attempt To Make People Aware Of The Musical Minds Behind Popular Bollywood Songs
Gaana Pehchaana is an entire package of musical quiz games, live gaming sessions and blogs that make us aware of the musical geniuses like directors, lyricists and singers who shed their blood and tears to create hit songs for the movies but never get the recognition that they deserve. Play Teen Maar Khan, Bhagam Bhag, Aur Sunao, catch up on the informative blogs to know facts you never knew about and participate in the live games. To know more about our new Live Games feature check out the next paragraph.
Play Live, Play Against Others
Another fun thing launched by Gaana Pehchaana is GaanaP Live!  It's a LIVE Game Show in which you can play together with fellow Bollywood Music Fans from around the world. You can get invited to the next GaanaP Live by registering here. Check out the videos on the Gaana Pehchaana channel on YouTube to learn more about GaanaP Live!